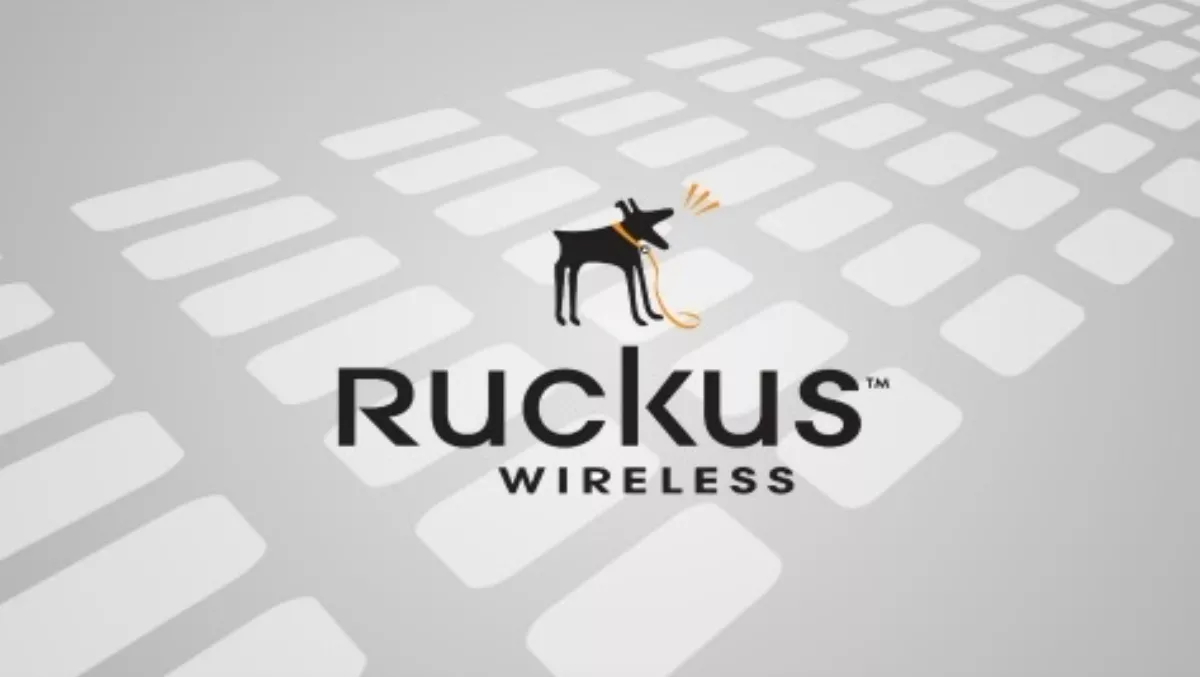 Ruckus works to transform the wireless experience
FYI, this story is more than a year old
Ruckus Wireless has expanded its SPoT location-based service (LBS), to let service providers and enterprises improve the ROI and monetisation of their wireless infrastructure.
Organisations can now actively engage with customers through value-added business services tailored for the user online experience.
Enhancements to the Ruckus LBS solution combine virtualised SPoT LBS software, calibration-free deployment, user presence and integrated support for Bluetooth Low Energy (BLE) beaconing to streamline the installation and delivery of location-based wireless services.
Additionally, Ruckus announced that it has entered into an alliance with Gimbal to enable effective beacon monetisation and utilisation of wireless networks.
New capabilities of the Ruckus SPoT portfolio include:
Ruckus SPoT Point: With venue calibration, SPoT Point detects client locations in real-time within a range of five to eight metres, with 80% accuracy.
Ruckus SPoT Presence: A calibration-free version for those who need less precise LBS tracking information and/or smaller venues with fewer access points deployed. SPoT Presence detects the overall number of devices present in a venue at the nearest Ruckus ZoneFlex access point (AP) using proximity analytics.
Ruckus SPoT virtual appliance software (virtual SPoT): A virtualised version of SPoT LBS that can be managed off-site in private or hybrid data centers. Virtual SPoT works with VMware Vsphere (version 5.x or higher).
All versions of the Ruckus SPoT location-based service also now include a Mapping Tool feature on the SPoT Administrative Portal.
The Mapping Tool allows for updating and editing of the SPoT coverage area, as well as Ruckus ZoneFlex access point (AP) locations and zones.
Ruckus SPoT service requires no new hardware and can be used with the latest Ruckus ZoneFlex indoor and outdoor 802.11ac access points, in addition to many 802.11n AP models and all new Ruckus SmartZone and existing ZoneDirector control and management platforms.
Distributed management and integration of BLE beacons
As part of the expanded Ruckus LBS solution, Ruckus ZoneFlex APs will be capable of serving as a two-way distributed management and asset and security monitoring platform for BLE beacons.
The new Ruckus ZoneFlex R710 indoor access point and ZoneFlex H500 Wall Switch now support Gimbal as well as iBeacon technology with Ruckus SmartZone and ZoneDirector controllers.
Under a new alliance with Gimbal, Ruckus ZoneFlex APs can now run Gimbal's proprietary firmware, helping to ensure security for beacon proximity networks via Gimbal's rolling encrypted IDs.
Ruckus APs with Gimbal technology aims to help retailers, hotels, venues, advertisers and out-of-home (OOH) networks monetise their wireless networks by securely sharing access to their beacon networks with business partners, sponsors or digital ad networks.
Ruckus ZoneFlex APs incorporate Gimbal technology and are powered via Power over Ethernet (PoE), removing the need for batteries and serving as a detector for all nearby beacons.
Ruckus LBS Solution for schools and retailers
Within education environments, the Ruckus LBS solution can be used to track high value assets that are issued by a school as well as help with new modes of learning.
For instance, throughout the campus, content can be made accessible based on location and time of day. Students can also be located via mobile devices in the case of an emergency.
For retailers, the Ruckus LBS solution provides insights into customer footfall and behaviour, plus allows the mapping of data against sales records, and the ability to engage with customers with targeted content to creates a unique shopping experience.
Third party mobile and analytics application developers have access to an open API set for the delivery of comprehensive, accurate location information.
This enables the development of value-added services for better customer insights and enhanced user engagement, says Ruckus.
Pricing and availability
Available now worldwide, Ruckus SPoT Point is a subscription-based service that can be purchased on either a one, three or five year basis for USD$25 (NZD$35) per Ruckus access point per month.
Ruckus SPoT Presence is scheduled to be available by July 2015, with a lower price point and targeted toward smaller stores and outdoor deployments.
Ruckus virtual SPoT location-based service is available now for a one-time fee of $995 ($1391) for the per-instance licence and $100 ($140) per Ruckus ZoneFlex access point.
All versions of Ruckus SPoT location-based services are available from authorised Ruckus BiG DOGs channel partners.
Related stories
Top stories