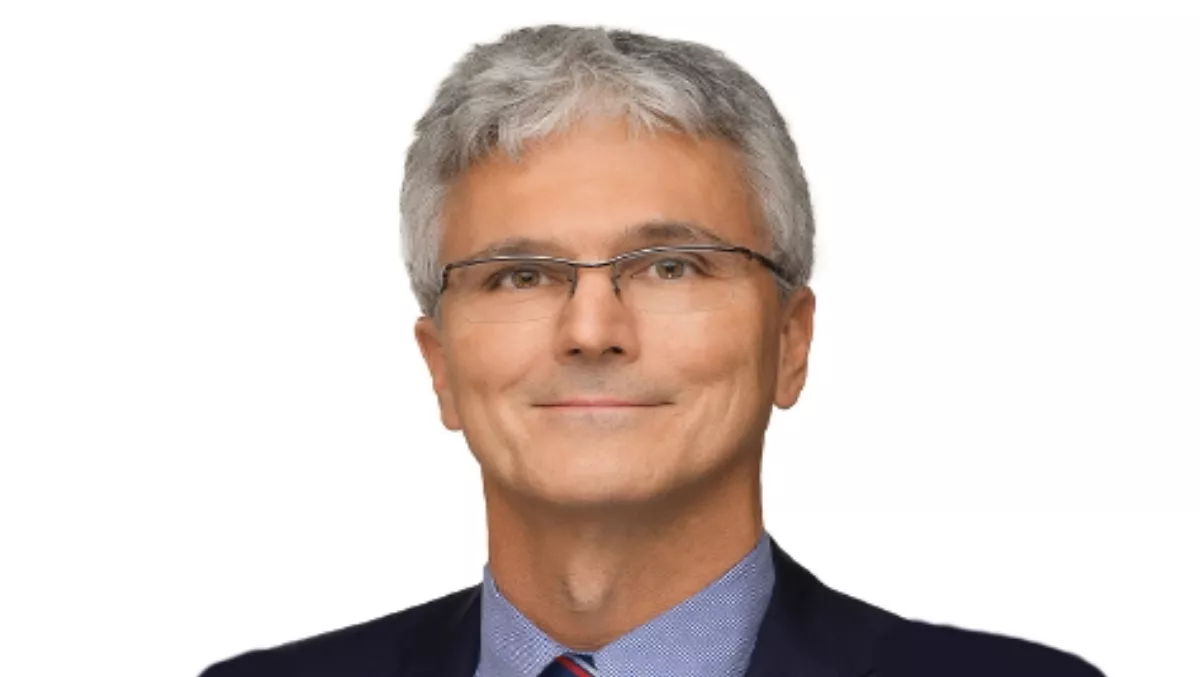 Russell Jones: Banking on technology
FYI, this story is more than a year old
Russell Jones heads an IT team the size of some of New Zealand's bigger companies. He talks to Heather Wright about future proofing ASB's technology, being customer focused and how technology isn't everything.
Russell Jones may be the head of a 500-strong IT team, but he happily admits technology is never the entire solution.
"Technology is only ever one component. It never solves any problem on its own. It's about people, processes and technology," the executive general manager of technology and innovation for ASB Bank says. "You need all three to be sync."
"And," he adds, "unless it's used appropriately, it does not work either."
It's not a surprising stance for Jones, when you consider his background.
After doing a bachelor of science in information processing with an honours in computer science at South Africa's Rhodes University, Jones won a scholarship which saw him working in the paper industry with Sappi.
Jones would be with Sappi – originally South African Pulp and Paper Industries – for 15 years in a range of roles around the world.
It was a time of huge change for Sappi which was on something of an acquisition binge, and Jones got to experience much of it up front and personal.
"I had lots of non tech work, dealing with the change, consolidation and the commercial aspects of acquiring and bringing things together.
"It was very good experience in an ugly industry."
Come 1996, Jones had made the move to New Zealand, where he joined Carter Holt Harvey running their SAP programme.
"It was another tremendous learning experience," Jones says.
It was the early days of SAP in New Zealand, and the project was set to be the biggest SAP project in the Southern Hemisphere. It was, Jones says, 'a classic business transformation story of people, processes and technology'.
It would also teach Jones more about processes than anything else, he adds.
The project would see CHH initially roll out SAP for financials, before expanding to the full core suite, which included HR, order management and procurement.
"It was about process re-engineering. We were taking finance and accounting out of every business, into a shared services centre. We were rebuilding the company in a slightly different way."
The CHH SAP project would eventually result in the development of Oxygen Business Solutions, which was spun out of the company in 2001.
International finance
But by 2003, Jones was on the move again, this time to International Paper – Carter Holt Harvey's parent company – in the United States.
He took on the role as IT director for strategy, planning and architecture but ended up doing special project roles.
Much like his time at Sappi, his role at International Paper would be a time of big change for the company as it sold $16 billion of business and re-invested in its core business of packaging and paper.
Jones had overall responsibility for all aspects of International Paper's divestiture programme.
Joint ventures in Russia, asset swaps in Brazil, outsourcing capabilities in India and Poland would be among the projects that kept Jones occupied.
"We had some really big acquisitions," he says simply.
"A lot of the work was non tech. It was commercial: contract negotiations, licensing, IP, movement of people and due diligence."
Jones' experience beyond technology is likely invaluable in his current role. After all, as the head of a tech team which has more than 500 permanent staff – and between 25 and 125 additional contractors at any one time – he is effectively heading an organisation larger than most New Zealand businesses.
He joined the company in 2008 as group head of technology, followed by a stint as chief operations officer, before taking on his current role in 2013.
After 25 years in the forestry industry, the move to financial services was 'a complete change'.
"One of the things I really love about this role is the incredible focus on the customer.
"We have 1.4 million customers who interact with us 24/7. That's quite different from a business to business operation [like his previous roles], and it requires us to have systems always on.
"People have to be able to address their financial issues 24/7 and they expect it to be easy, simple and great to use."
The ability for customers to self–service is also crucial, Jones adds.
While some of the interaction is passive – such as Eftpos – there's also plenty of active, with modelling future savings, planning for retirement and so forth.
"They're really important issues for customers and we have an obligation to support them in this.
"And there's obviously an expectation of integrity, trust and accuracy – and that's a good thing."
Among the key projects for Jones at ASB has been the replacement of the bank's 30 year old cards platform.
"Card processing is a very technical and standards driven part of the industry and some of our capabilities were getting stretched."
It was he says, a 'non-trivial task'.
Completed in October 2013, the project was the biggest single piece of work ASB has done.
But behind the scenes, there's an even bigger project underway.
"We are in the process of replacing our core business systems. The bank invested in SAP several years ago.
"We're moving from a legacy system to a new environment in an ongoing project.
"It's not a great big, flashy project. Success for me will be waking up in five years' time and no one knows it even happened. That's the goal. We're moving at a pace that makes sense for the business and our risk profile," Jones says.
He says the new technology offers more potential for the bank, while also reducing overall risk and cost.
"We have the luxury of being able to do it at the pace we choose. We have a good legacy mainframe system, we're not up against the wall."
Future-proofing
The big projects aren't the only IT projects keeping Jones and his team occupied.
Last year the bank introduced tighter integration with Xero and MYOB accounting systems, enabling users to perform online banking directly from within the applications, without needing to visit ASB's portal.
ASB PayTag, a Visa payWave sticker with an ASB contactless chip, debuted late last year too. The sticker is attached to the back of any phone and enables users the ability to make payments on the go, even when the phone is off, at any contactless enabled merchant terminal. Payments over $80 can be made using a Pin.
"We got a very big response," Jones says of the launch. More than 1000 ASB customers signed up for the PayTag within two days.
Jones says security was a key concern and controls were put into FastNet Classic and ASB Mobile, allowing users to turn the chip on and off – something Jones says some competitors don't have. The controls also ensured the PayTags were inactive when mailed to customers, something he says wasn't the case with a competitor's offering.
The company is also trialling a Semble mobile wallet offering, which would initially provide access to ASB credit and debit payment cards via an app on high-end Android phones incorporating an NFC chip.
"Semble solves very elegantly the problem merchants have of how to get loyalty cards into customer's wallets," says Jones.
Rather than carrying multiple cards – such as Flybuys, travel cards, coffee cards and other loyalty card – customers will be able to store the cards in the Semble virtual wallet.
Jones says the bank is also keeping a close eye on Apple Pay and its potential arrival in New Zealand and is trialling HCE (host card emulation) internally.
The HCE mobile wallet offering's differentiation lies in being a secure payment solution hosted in the cloud – a development that could allow the bank to build a complete mobile wallet solution within its existing ASB Mobile App.
Jones says having multiple options is a way of future proofing the business.
"Sometimes, making the decision to choose one option is the worst option. Sometimes, choosing multiple options and having a portfolio of products is the way to go.
"Unless you have incredible insight and an amazing ability to pick a winner, it can be better to position yourself with all the options, particularly given technology is moving so quickly and there are so many options," he adds.
"We put a fair bit of pressure on ourselves to stay at the forefront of innovation," Jones says.
"We don't have to win every race, but we certainly don't want to be left behind!"
And for Jones, that brings an added benefit – the chance to explore 'new and interesting ways of doing things'.
Related stories
Top stories