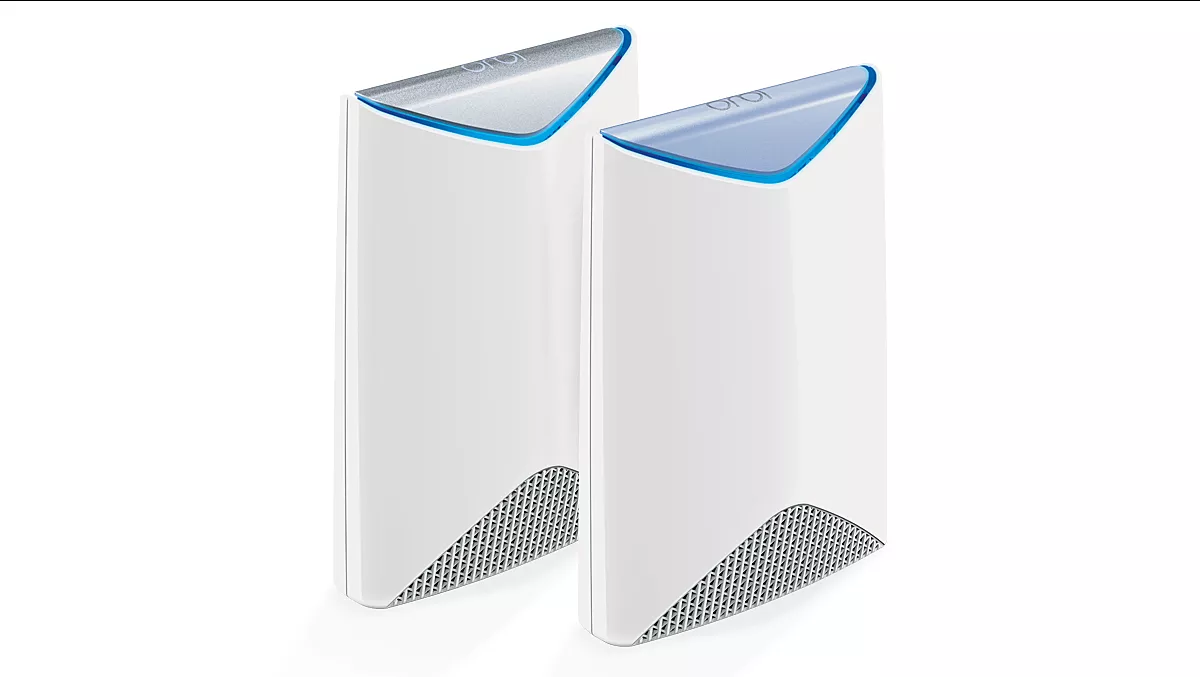 Save your business the trouble of woeful WiFi
Fri, 6th Mar 2020
FYI, this story is more than a year old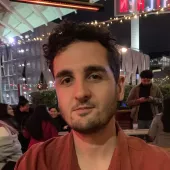 By Nick Forrester, Senior News Editor
We all know how frustrating it can be to seemingly connect to a business' WiFi, only to experience a shoddy, slow or off-and-on connection.
Nowadays, a low-quality, underperforming WiFi connection can genuinely drive potential customers away from your business. As internet connectivity grows, so does the appetite to access it everywhere.
Netgear's Orbi Pro Tri-band Business WiFi System offers a superior WiFi connection for small to medium-sized businesses (SMBs), meaning terrible connections, drop-outs and maintenance woes are a thing of the past.
Introduced in November last year, the slim and sleek design of the Orbi Pro and its additional Ceiling add-on satellites makes it the perfect choice for discreet yet powerful ceiling and wall-mount Wi-Fi installations.
The low-profile WiFi satellite expands WiFi reach without obstacles, and offers mesh networking performance and coverage so customers and staff can connect from anywhere within your business.
On top of being the easiest satellite to set up, deploy, and manage, the Orbi Pro supports a full suite of advanced Wi-Fi features for everything from a simple network to a highly complex one.
Some of the main features include:
Tri-band AC3000 802.11AC Wi-Fi (400 Mbps on 2.4GHz, 867 Mbps on 5GHz low band, 1733 Mbps on 5GHz High band)
4x4 MU-MIMO to support fastest Wi-Fi clients and high-density deployments when using the wired backhaul
Band steering to move clients that are demanding more bandwidth to the 5G bands and keeping the 2.4G band less congested.
Beamforming for maximum performance and penetration for all clients.
Load balancing to assure that the clients are evenly spread on the radios and they are all enjoying the best possible Wi-Fi experience.
Airtime fairness to guarantee reasonable performance for slower clients.
Advanced Roaming to ascertain that clients can freely move around the Wi-Fi space conducting voice and video calls without interruption.
Automatic Power and Channel management for seamless roaming and superior coverage and performance.

The Orbi Pro ensures that managing your connections is as simple as possible with the Netgear Insight app.
With Netgear Insight, you can quickly discover, setup, monitor and manage your Insight Managed Orbi Pro endpoints from anywhere
Whether at home, out of the office, on a business trip, or even at the beach, you can still manage your network as if you were right there, all from the palm of your hand and from anywhere in the world.
Shane and Kerry Mitchell-Bathgate are avowed advocates for the Orbi Pro WiFi system, after installing it at their four-hectare resort in Marlborough, Vintners Retreat, and experiencing significantly improved internet connection.
Vintners Retreat purchased the Orbi Pro Tri-Band Business WiFi System (SRK60) AC3000 and seven additional Orbi Pro Ceiling Satellites (SRC60) to cover each of its buildings across the four hectares.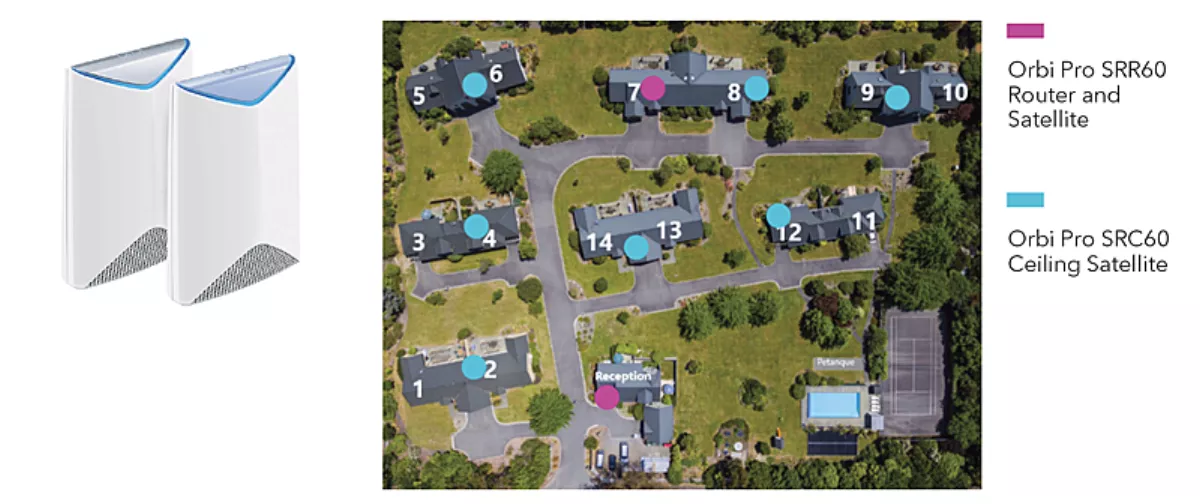 "I started by placing the Router from the SRK60 system in my office and the satellite in one of the rear villas," says Kerry.
"I then synced one of the ceiling satellites and placed it in the villa closest to reception.
"The system connected and worked perfectly on the first try! I finished off placing the satellites in the rest of the villas and the whole complex is now meshed."
With all of the residences meshed, each villa's Smart TV was connected to the Orbi network, as well as several individual smart speakers, catering to data-heavy activities such as streaming a family movie in 4K.
"To seamlessly connect eight buildings with the ability to monitor traffic and usage from our mobiles is divine, while the price point was more than affordable for our needs," says Kerry.
"We are so happy with our Orbi Pro!
If you want to learn more, email Carla at carla.thornton@netgear.com