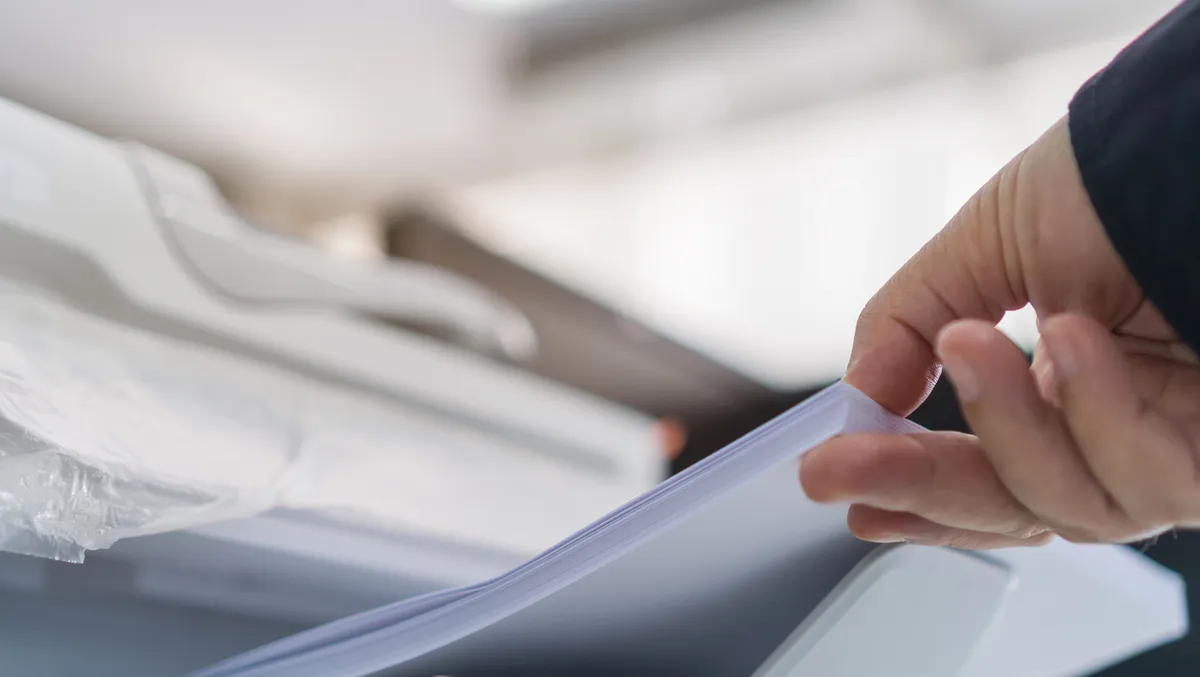 Shift to the cloud for security of enterprise print networks
Revolutionising Business
The cloud offers a host of unprecedented benefits to organisations and individual users alike – benefits that will only continue to grow. Across industries, this transformational technology has been one of the fastest-growing segments of IT spending. According to Quocirca, 20% of companies surveyed in 2022 expected their IT infrastructure to be fully in the cloud by 2025, a rise from 6% at the time of the survey. A further 41% expected it to be mostly in the cloud, a rise from 21% at that time.
Furthermore, 43% of all organisations surveyed had already implemented a cloud print management platform, with a further 37% reporting that they had plans to do so by 2024.
It's easy to understand why this shift to the cloud is occurring. The workplace is constantly evolving, and the traditional office we once knew seems to have changed forever. To ensure business continuity and resilience, employees now need to be able to work from anywhere, on any device. In this new landscape, the cloud has become a crucial backbone of 'the new normal,' particularly to ensure that teams can collaborate easily and securely, even from disparate locations.
With the ability to bridge the gap between paper and digital processes, Canon's award-winning³ 100% public cloud print and scan management solution – uniFLOW Online – can help you meet the challenges of the evolving workplace.
uniFLOW Online is a secure cloud-based print and scan management solution. This subscription-based (SaaS) product is developed on the Microsoft Azure platform, providing businesses with superior enterprise security, scalability, and resilience.
uniFLOW Online allows users to seamlessly print and scan documents, whether you're working from the office, home office, or a combination of both. Businesses benefit from enhanced security, detailed reporting, and potential cost savings with comprehensive tracking and management of users and devices, all from one platform. The result is a simple and secure print and scan infrastructure that's flexible, has more security controls, and is built for new ways of working.
Remove the IT Burden
The cloud doesn't just empower mobile workforces. It enables IT teams to step away from many daily tasks associated with maintaining physical infrastructure, too, so they can focus their expertise on more productive aspects of your business.
uniFLOW Online's advanced cloud print solution enables your IT team to manage your print fleet online from a single platform. It provides visibility of your organisation's printing, copying, faxing, and scanning behaviour, regardless of the location of every device.
But that isn't all. uniFLOW Online also helps you:
Eliminate costs related to the use, maintenance, and upgrades of print servers, including storage, as a local server is no longer required.
Eliminate costs and resources associated with sending print jobs via VPN (Virtual Private Network) – with jobs processed through Smart Client, everything happens in the cloud; however, network traffic is minimised through WAN.
Eliminate multiple print drivers and print queues for a seamless, more cost-effective print environment that is simple to configure, maintain and manage.
Flexible Authentication
Within an increasingly complex digital world, authentication is crucial for securing access to your multi-functional devices (MFDs) and vital for any data loss prevention policy. uniFLOW Online ensures device and document security by requiring users to identify themselves via card, pin, or phone before they can access any device features.
Device-function restrictions or Function Level Login can also be set to control device access for departments, teams, or even individual users.
Secure Printing
With uniFLOW Online, users can print confidential documents securely, even when they're printing directly from popular cloud services such as Microsoft Teams and SharePoint Online. All print jobs stay in the user's personal secure print queue until they identify themselves at a device and release them. However, to boost productivity and facilitate collaboration, users can delegate print jobs manually to colleagues for release and collection from print queues.⁴
uniFLOW Online's multi-layered process provides maximum document security to the end user and the organisation. Despite these controls, various print submission options and integrations with third-party print services, such as Microsoft's Universal Print, ensure a user-friendly and flexible work environment.
Achieve Savings with Cost Tracking & Reporting
Let's face it, every organisation is looking for opportunities to reduce costs. And one of the most effective ways to do so is to cut down on unnecessary print. uniFLOW Online helps IT administrators take complete control of printing, copying, faxing, and scanning activities via the user-friendly portal.
Cost centres, also known as billing codes or cases, allow print, scan, or copy charges to be allocated to different projects, departments, or cases. They can be assigned on a per-job basis or by default according to user, device, or location.
Information on the organisation's print, copy, fax, and scan usage can be collated into graphic reports with user and device details, as well as summaries of device usage by individual, department and more. These valuable reports are easy to interpret and provide unprecedented insights to change print behaviours in an effort to minimise waste and save costs on consumables and maintenance.
Mobile and Guest Printing
Regardless of where your workers are located, they need to be able to send documents to a print device quickly and securely using a smartphone or tablet. uniFLOW Online's mobile app enables this with support for more than 40 document and image file types. Users can submit and release print jobs from their Android or iOS devices. Alternatively, they can add print jobs to their personal queue with a simple email to a central address.
Guest printing is also enabled by establishing a secure print email address. Once a print job is sent, the user will receive an email with instructions on how to retrieve their job using a secure temporary code. To optimise security, guest users are automatically locked out of all other network functions.
Secure Document Scanning
uniFLOW Online users can scan documents directly from any supported Canon device to a range of local and cloud-based scan destinations such as OneDrive, SharePoint Online, MS Teams and Google Drive. Support for scan workflows, scan templates, and advanced document processing features also enable you to efficiently send and store documents. Cloud Image Processing optimises workflows and outcomes by sending scanned documents directly to a variety of cloud scan destinations with enhanced image quality, compression, and document security.
Data Sovereignty
Maximising the security of the data your organisation collects and stores is paramount – you can't afford for it to be exposed to international laws and governance structures that may not be similar to New Zealand. uniFLOW Online is currently hosted in eight Microsoft Azure® data centres across the globe, with our closest in Melbourne, Australia. Although outside of New Zealand, the data centre respects data sovereignty and achieves compliance by storing regional customer data within the area it is collected.
This data is then subject to the laws and regulations of that region. With Australian Privacy Law providing comparable safeguards to that of New Zealand's Privacy Act, this gives businesses comfort in knowing that their data is stored and remains within the Oceania region.
Supporting Zero Trust Environments
Zero Trust is a security model that mandates all users, regardless of whether they are inside or outside the organisation's network, to undergo authentication, authorisation, and continuous validation of their security configuration and posture. This must be done before they are given or allowed to maintain access to applications and data. The Zero Trust approach operates under the assumption that traditional network boundaries do not exist, meaning that networks can be situated locally, in the cloud, or a hybrid of both. Additionally, resources can be located anywhere, and workers can operate from any location.
uniFLOW Online's approach includes multi-factor authentication/identity access management, device security and remote monitoring and reporting tools that can track user behaviour and device anomalies such as DDoS attacks.
Together, these features ensure that the same controls applied to corporate networks are extended to home and remote workers as well.
Conclusion
Recent global events have had a major impact on business, the long-term consequences of which are still to be seen. Within this new environment, where workers are increasingly operating from different workspaces, collaboration and productivity are dependent on the easy yet secure exchange of information.
By harnessing cloud-delivered services, organisations can take advantage of innovative tools to optimise business opportunities. Regardless of whether teams are working in the office or remotely, you're able to take better control of managing documents, minimising costs and waste, all while maximising productivity.
Why Canon?
Canon has been the global leader in imaging for over 80 years. Renowned for innovation and security, our secure cloud print solution is trusted by thousands of organisations worldwide. Quite simply, no software in its category has received more industry accolades than uniFLOW Online.
These accolades are confirmed by an extraordinary five coveted Buyers Lab (BLI) awards for uniFLOW Online over five years, including the 2023 BLI Pick Award for Outstanding Cloud Output Management.
Presented by Keypoint Intelligence – the industry's most trusted resource for unbiased information – these awards give special recognition to manufacturers and products that performed above their peers in exhaustive lab tests.
Ready to learn more?
Register for the on-demand webinar to learn more about how uniFLOW Online can transform your print and scan environment, or visit canon.co.nz/uniflow-online to enquire about talking with a Canon expert.