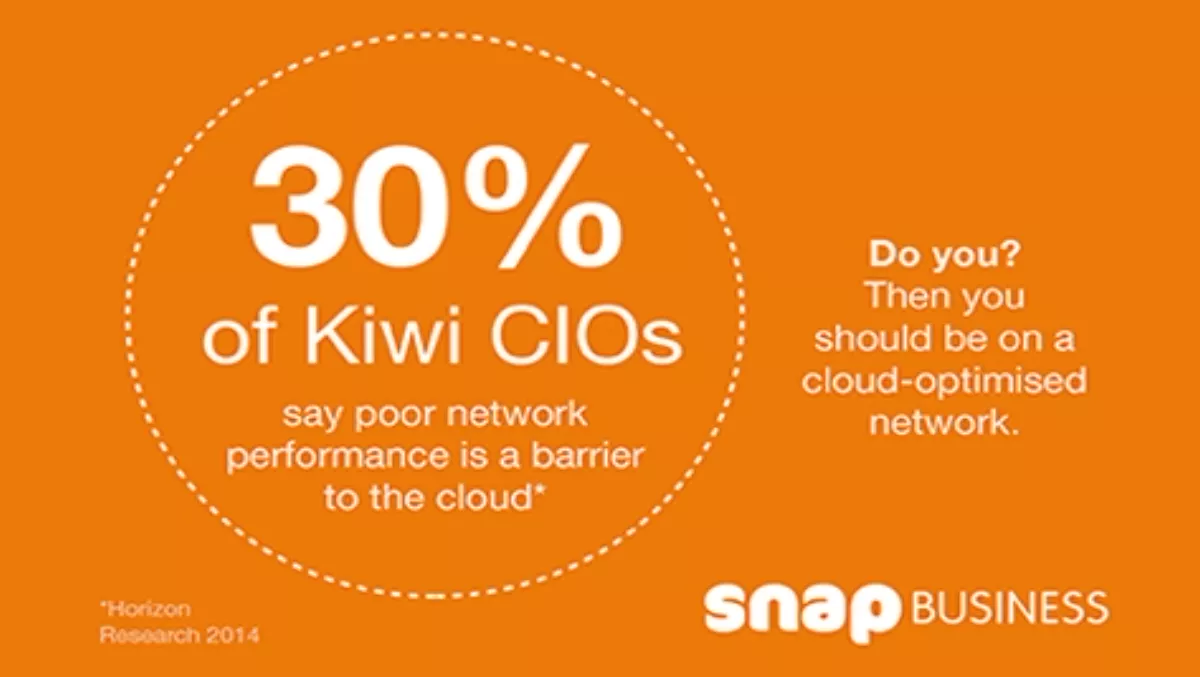 Snap: Everything affects the network
FYI, this story is more than a year old
Cloud services offer proven benefits to New Zealand businesses seeking greater economies of scale and agility.
To fully realise the potential of the cloud, businesses should act now to prepare their network infrastructure.
In planning for cloud services, IT teams need to consider both the connectivity coming into a building as well as that within the local area network (LAN).
Poor network performance is sometimes cited as a limiting factor for adoption of cloud services.
The experience from the early UFB connections going live found examples where companies reported no change in their internet performance owing to poor wireless LAN connectivity
Check whether your LAN or network router is limiting performance and audit your existing connections - in some cases, these can be upgraded to a faster link at no cost.
Some companies find it difficult to establish a direct network connection to cloud services located in local data centers which impacts on performance.
Achieving this requires shared processes and close working relationships between the network provider and cloud or data center provider, so consider using a secure, managed, private network connection to access cloud services.
The greatest accelerator of cloud services adoption in 2014 is expected to be Ultra Fast Broadband, and where a fibre connection is established, any lingering issues about quality, performance and cost of connectivity tend to disappear.
If UFB is available in your area, get it now.
Establish a trial for your business to ascertain what is possible with a fibre connection. In the meantime, if bandwidth cost and availability are limiting your company's adoption of cloud services, discuss alternatives like VDSL2+ with your ISP.
For less than $100 per month, sufficient bandwidth can be provided to support the cloud services most popular with small and medium businesses such as backup/storage and software-as-a-service.
A clear lesson is to involve your ISP early on. Good ISPs do their best work when they can view every point of the 'value chain' from the cloud service provider to your door by establishing private peering arrangements, or direct connections, with providers' networks.
The last 100 metres of the (fixed or wireless) network can render any upstream initiatives to deliver a suitable service futile if it doesn't provide sufficient throughput and Quality of Service.
Prepare by scoping the impact of cloud services on the network, auditing the on-premise equipment and network infrastructure and assessing its capacity to reliably and securely carry additional services. Ensure you have full visibility over network performance data, possibly utilising some of the cost effective monitoring tools available as a service.
Disaster recovery plans and service level agreements with ISPs may also need to be adjusted to take into account different needs for redundancy and high availability of newly established cloud services.
Time invested preparing networks for future cloud services will not be wasted.
To learn more about the views of New Zealand companies on cloud-based services and the implications for networks, download the whitepaper here.
Related stories
Top stories