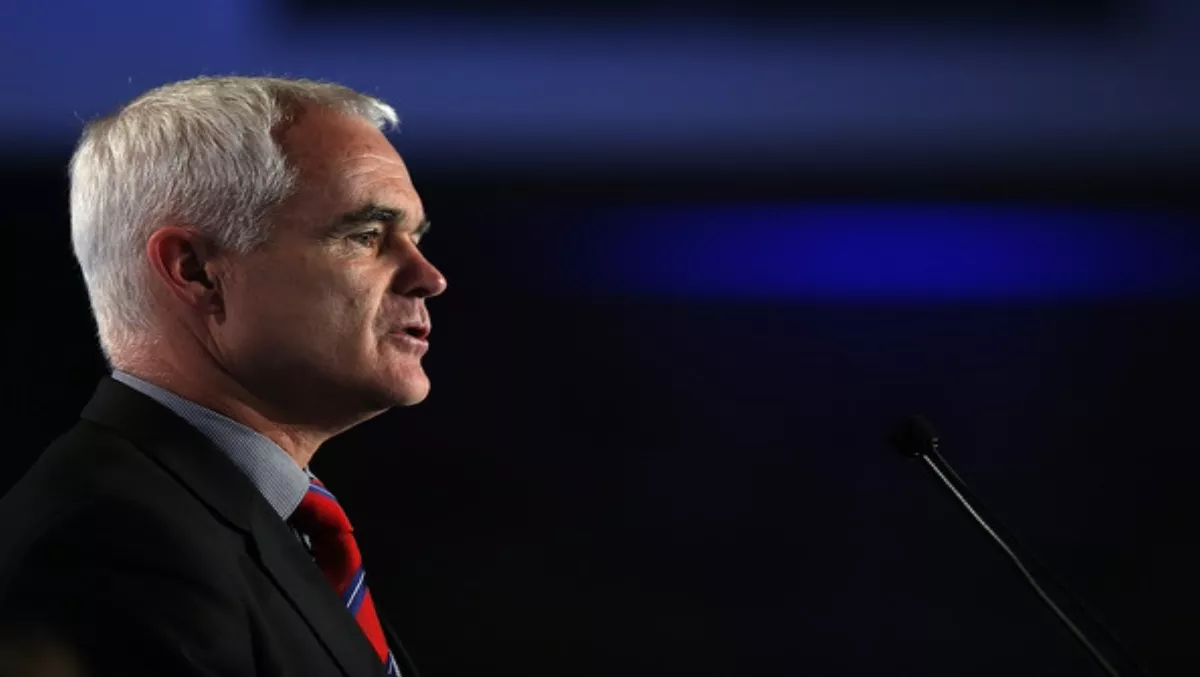 Tele-gone? Workers rebel as Moutter-Gate saga continues...
Fri 25 Jul 2014
FYI, this story is more than a year old
Attempting to let the dust settle on the Moutter-Gate saga this week has so far proved as effective as shovelling snow while it's still snowing.
For the Telecom CEO is still facing criticism from disillusioned workers, with some hell-bent on ridding themselves of the negative culture which appears to permeate the corridors of the country's telco giant.
A week after putting a concerned worker in their place for voicing opinion on the company's impending change to Spark, Moutter's comments have left some workers questioning their role within the company.
"I am a staff of telecom and i would say like me a lot of staff are looking at leaving telecom," one worker told Techday.com, who didn't want to be named.
"I work customer facing and become the face of telecom. Receive most of the abuse customers have towards telecom."
Asking what they receive in return for taking such abuse, the confidential source was clear:
1. Unrealistic sales targets to meet

2. Sell over priced accessories to customers

3. Cuts in commission pay

4. No recognition for going over board for a customer.
Not content there however, the disgruntled worker continued: "I started when Paul Reynolds was CEO and you can say back than staff were happy.
"I loved my job but now i wake up to days when i dont feel like going to work. Happy staff means more productivity for the company. Hope something is done and this unhappiness of staff is looked into."
Moutter's ill-advised put-down last week, in which he branded an employee "cynical" for questioning whether the company's decision to rebrand will merely paper over the cracks in the eyes of the customer, has been the biggest talking point of the tech industry for the past seven days, with a flurry of past and present employees voicing their concerns.
"I took my cynical side to another company and am better for it," BTW wrote on Techday.com. "I worked for Telecom/Gen-i for several years and saw a company that paints a picture yet lacks substance.

"With declining telco revenues and other companies simply doing things better and cheaper, they're trying to buy their way into the new era.

"Speaking with people in the companies they have purchased and Telecom employees they're apprehensive about the future to say the least.

"Think about the acquisition of Computerland, I hope Revera isn't on the same track. The mindset seems to be "sell off the old bits and retrofit some new ones". Moutter actually plays business units off against each other.

"From what I've seen, head of Gen-i - Tim Miles is under the gun while Chris Quinn in retail is Simon's poster boy. Telecom doesn't have a cohesive story across the company nor the buy-in from the majority of employees.

"If Telecom has a rabbit they better pull it out of a hat before the spark is extinguished."
Echoing the comments of BTW, JJ told
Techday.com
that having worked under Moutter during his last reign at the company, "this is pretty typical of the man and a modern CEO."
"The only person who would call this man a leader is himself," JJ added. "Arrogance, selfish are not leadership traits, mind you that's why our CEO get paid the big bucks."
In his defence...
But in the interests of fairness, and to somewhat defend Moutter - it must be noted that his reply via the company's internal intranet forum received strong backing from some staff members, with a 113 likes and 83 dislikes in his favour - at the time of writing.
According to Antony, commenting on Techday.com, the number of likes versus dislikes (the original staff comment received 43 likes and 32 dislikes at the time of writing) are "surprisingly similar numbers, despite being for the opposite thing."
113/85=1.3294...43/32=1.34375

"Automaton programming 101, require workers to comply with "positivity" at any cost (including the truth).

"Of course you really want those numbers to be all "likes" and zero "dislikes", displaying a completely positive approach irrespective of the content of anything, so there is some way to go to squashing out any concept of criticism."
Lead by example…
Yet according to Gopes, a CEO is supposed to lead by example, and inspire their staff to be better and do better. Yet Moutter's outburst, in the eyes of Gopes, "does the absolute opposite."
"It instils fear of speaking out, having an opinion, addressing concerns; it creates a negative work environment," Gopes added, who does not claim to have ever worked for Telecom.
"What should have been an exciting moment in Telecom history has now been clouded by a CEO openly berating an employee in an open forum. Well done to 'Pedantic' - they brought out the CEO and Mr Parker's true colours."
Sorry...
In issuing an apology to staff earlier this week, Moutter insisted that he welcomes the "diverse views" of employees - yet according to JJ, this was "typical of this man."
"He is apologizing for up-setting people not the reason why he upset them in the 1st place," JJ claimed.

"Very, cleverly chosen words. He is way to arrogant to admit he's was out of order and accept that actually all is not a rosey has he would like to paint the picture.

"You should ask him why for 14 years Telecom have struggled to get a good result from there engagement surveys.

"People at Auckland Airport apparently had a loud cheer sigh of relief when the announcement that he had been transferred back to Telecom.

"We really need some new and exciting CEO's in this country, this old school mentality and merry go round of CEO 's is unhealthy for New Zealand."
Following a flurry of response to
Techday's story last week,
the general consensus so far has been simply that Moutter "has it wrong."
"He blames the guys in the front line," givesadam told Techday.com. "In the staff cuts how many of the middle management have gone. None.
"The encumbant middle management, Bruce, Niel, MHJ, Mike, Jan, Paul, etc.... They merely spew the same corporate line.
"Until Simon or his replacement replace these middle managers NZ is stuck in a time warp. Wish Simon focused on the problem he has….."
Somewhat surprisingly however, amidst the anti-Moutter / Telecom feeling anonymous told Techday.com: "I retweeted the post with a comment from my employer's account and our CEO was contacted whether it reflected the view of our organisation!! go figure"
Should Telecom workers be worried? Has the backlash on Moutter been somewhat harsh?