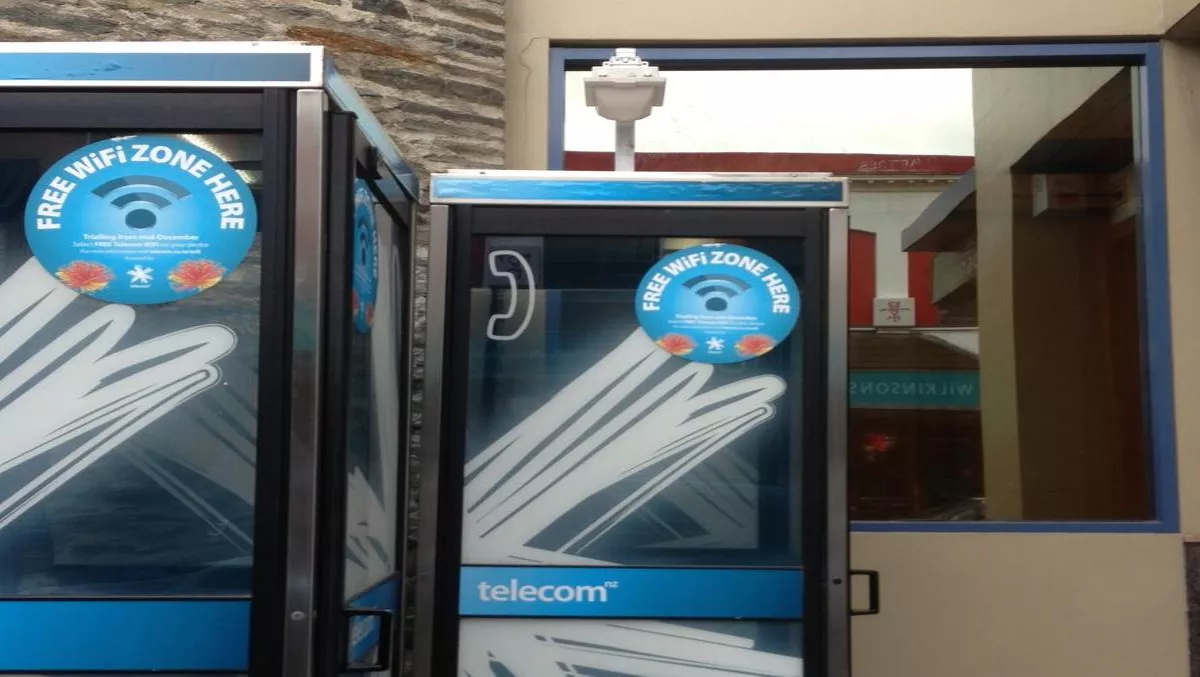 Telecom NZ chooses Ruckus for Wi-Fi access points
FYI, this story is more than a year old
Ruckus Wireless has been selected by Telecom NZ to transform conventional payphones into ultra fast, outdoor Wi-Fi hotspots in locations across the country.
Telecom's initial pilot project, completed in less than 12 weeks, outfitted phone booths in holiday locations over this past Christmas in December 2012 with Ruckus ZoneFlex 7762 outdoor dual-band 802.11n access points (APs) to provide the public with free high-speed Wi-Fi access, the telco is now expanding its solution to more of the 3,000 telephone booths it operates across the country.
The company also says it will continue to trial WiFi through a number of telephone boxes (around a hundred or so activated during the summer WiFi pilot, as well as the 30 activated in Christchurch following the earthquakes) and will be extending that trial into metropolitan areas in selected parts of Auckland, Wellington and Christchurch.
Each ZoneFlex 7762 AP integrates an adaptive antenna array based on Ruckus BeamFlex technology to deliver client devices much stronger Wi-Fi signals that can automatically adapt to obstacles and interference to increase wireless reliability and performance.
Central management of the Ruckus access points is provided through the Ruckus SmartCell Gateway (SCG) 200, a massively scalable and versatile wireless LAN (WLAN) platform.
"One of the biggest challenges that carriers often have has nothing to do with technology but everything to do with securing locations where the equipment can be deployed with power and backhaul," says Selina Lo, president and CEO, Ruckus Wireless.
"This is an extremely innovative and creative use of existing telecom assets that adds real value for both the subscriber and the carrier.
"Telecom New Zealand joins a class of other telecom leaders, such as PCCW in Hong Kong and Oi in Brazil, who are embarking on similar projects to retrofit phone booths with Wi-Fi," concluded Lo.
Who needs change at a Payphone?
Any person with a Wi-Fi-capable New Zealand mobile device can use the free trial Wi-Fi service in selected locations according to Telecom.
Users simply connect to an open Telecom Wi-Fi Zone signal and are sent a TXT (SMS) message to register devices on the network, connecting up to five devices for free from one registered mobile number with per customer data usage capped at 1GB per day.
The wireless traffic from each phone booth is backhauled predominately over fixed DSL or ADSL broadband lines. In some cases, wireless meshing is used to backhaul traffic.
Ruckus SmartMesh Networking technology allows Wi-Fi APs to automatically establish reliable and resilient wireless connections to adjacent APs that are connected to a fixed line network.
This can speed deployment times and eliminate the cost and complexity of having to run cabling to every wireless access point.
"Like many operators around the world, we see Wi-Fi moving beyond simply hotspots and becoming a standard radio access network technology that customers like, want and value," says Philip M. Ivanier, Head of Telecom Labs and Strategic Partnering, Telecom NZ.
"The Wi-Fi pilot with Ruckus has revealed a number of tangible benefits.
"Wi-Fi is clearly a fast and economical means to attract new subscribers. It gives existing subscribers more service locations, allowing us to quickly expand our service footprint.
"And the technology helps ease the burden by siphoning data traffic from the macro cellular network."
With one million fixed line residential and small/medium enterprise (SME) customers, and two million mobile connections, Telecom is a major player in fixed, mobile and ICT for consumers, and corporate, enterprise, SME and wholesale customers.
"Since deploying the Ruckus Smart Wi-Fi infrastructure we've seen very strong uptake, very high customer satisfaction and extremely positive user experiences," Ivanier says.
"With its innovative antenna systems, the Ruckus gear uniquely extends signal range and provides a carrier-class user experience that is unique for Wi-Fi within the telecommunications industry."
Ivanier continues that access to Wi-Fi encourages users carrying mobile devices like smartphones and tablets to stay within the city area for longer periods of time, as well as attracting tourists and helping them avoid crippling roaming charges.
Additionally, Wi-Fi is being used as a marketing and communications tool to engage with users and shoppers to drive them into particular city center retail areas with Telecom pursuing this on a commercial basis.
Related stories
Top stories