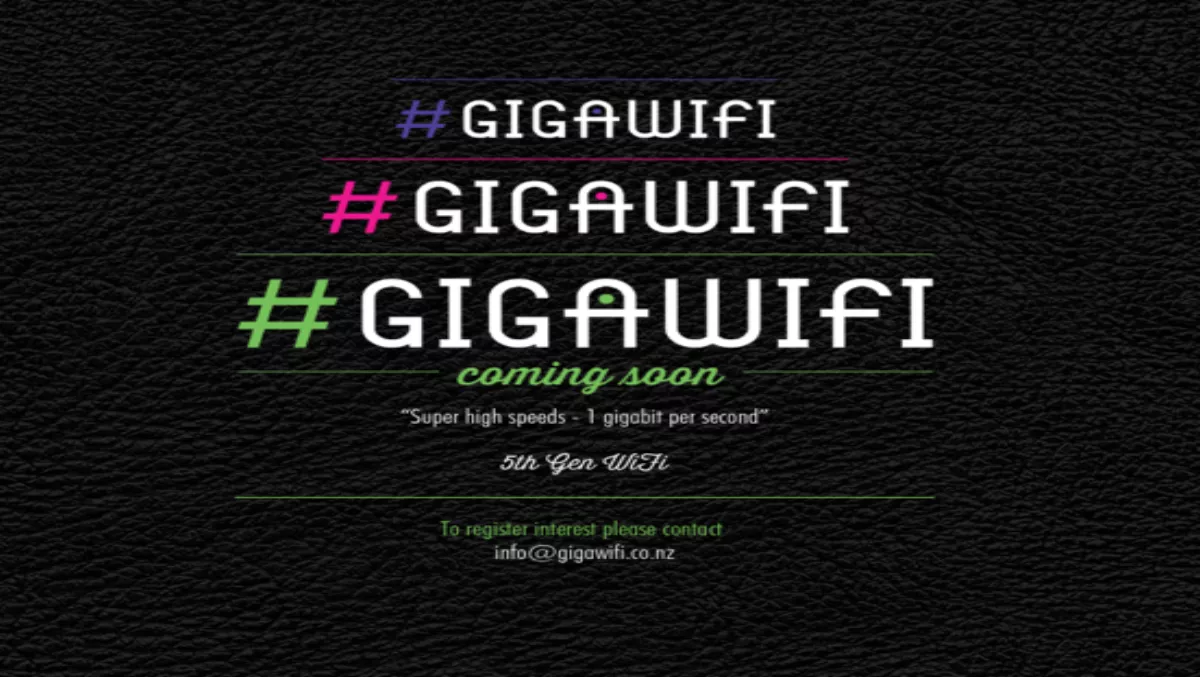 Telecom to launch 'GigaWiFi' competition
FYI, this story is more than a year old
Since it was launched only a few months ago the Chorus Gigatown initiative has created significant interest in the benefits of fibre. The introduction by Telecom of a complementary competition called GigaWiFi will help users take even more advantage of fibre connectivity and will play a helpful role in further encouraging fibre uptake.
Telecom Digital Ventures will be installing next-generation super high speed (1 gigabit per second speeds) 5th Gen WiFi hotspots at strategic and high-traffic 'hero' locations around New Zealand, and at towns who win the GigaWiFi competition, which will include – but not be limited to - the winning town in the Chorus Gigatown competition. Installation at hero locations will commence later in 2014. This is in addition to the ongoing expansion of the existing national Telecom WiFi network of over 800 hotspots.
Telecom Digital Ventures SVP Mobility, Commerce, Data & Apps, Ed Hyde, says, "Because WiFi can expand the reach and connectivity of Fibre this is an obvious complement to the current Chorus 'Gigatown' competition. The benefits work both ways, not only does WiFi expand the reach of Fibre, but having good fibre connectivity is essential to realising the full potential of WiFi."
Mr Hyde said, "Over the past year we have already rolled out a nation-wide Telecom WiFi network of over 800 public hotspots in refitted Telecom phone booths. That's been hugely popular, with over 280,000 people already signing up to use our WiFi network and many thousands joining each week. Our intention is to continue to build on that. We see a future for all New Zealanders, and visitors, being connected on the go by thousands of Telecom WiFi hotspots all across the country."
"Installing even faster 5th Gen WiFi at selected locations means we can offer superior WiFi speed and performance in those areas. 5th Gen WiFi boasts speeds up to 3 times faster than the current WiFi standards and allows for faster connectivity, meaning it has the potential to have a greater impact on our daily lives. It offers improved reception, less network congestion and smoother roaming functionality."
Full details of the GigaWiFi competition are yet to be determined; however the winning towns selected will have a meaningful number of state of the art next-generation Cisco 5th Gen WiFi hotspots installed in public areas throughout, enabling more people to create and discover great things in a world where being connected matters more than ever.
Mr Hyde said, "Increasingly, people want to be able to work and play, anywhere anytime. WiFi is the key to seamlessly integrating mobile and fixed networks. GigaWiFi competition winners will receive the sort of high-speed WiFi infrastructure that can help improve lives and foster innovation across their community in a myriad of ways."
Victoria Crone, General Manager, Marketing and Sales, from Chorus, said "We're really excited that Telecom WiFi is getting behind the Gigatown initiative with their GigaWiFi promotion. We think there is fantastic synergy between 5th Gen WiFi and Chorus fibre to provide truly world class connectivity and GigaWifi is a great way to draw attention to this great opportunity"
Sheldon Grizzle founder of The Company Lab, said, "Whatever town wins the Gigatown competition will become the envy of not just the Southern Hemisphere, but the rest of the world.
"While Chattanooga has the best gigabit fibre infrastructure in the US, we do not yet have a publicly available next-generation WiFi. So the additional GigaWiFi competition is a wonderful opportunity for the winning community to leverage even more connectivity to improve the daily lives of its residents."
Geoff Lawrie, Cisco New Zealand Country Manager, said, "Next-generation WiFi delivers significantly higher levels of performance and connectivity to support an incredibly fast data transfer experience. It boasts speeds up to three times faster than current WiFi deployments; and faster connectivity means positive impacts on the way we work, learn and play".
Related stories
Top stories