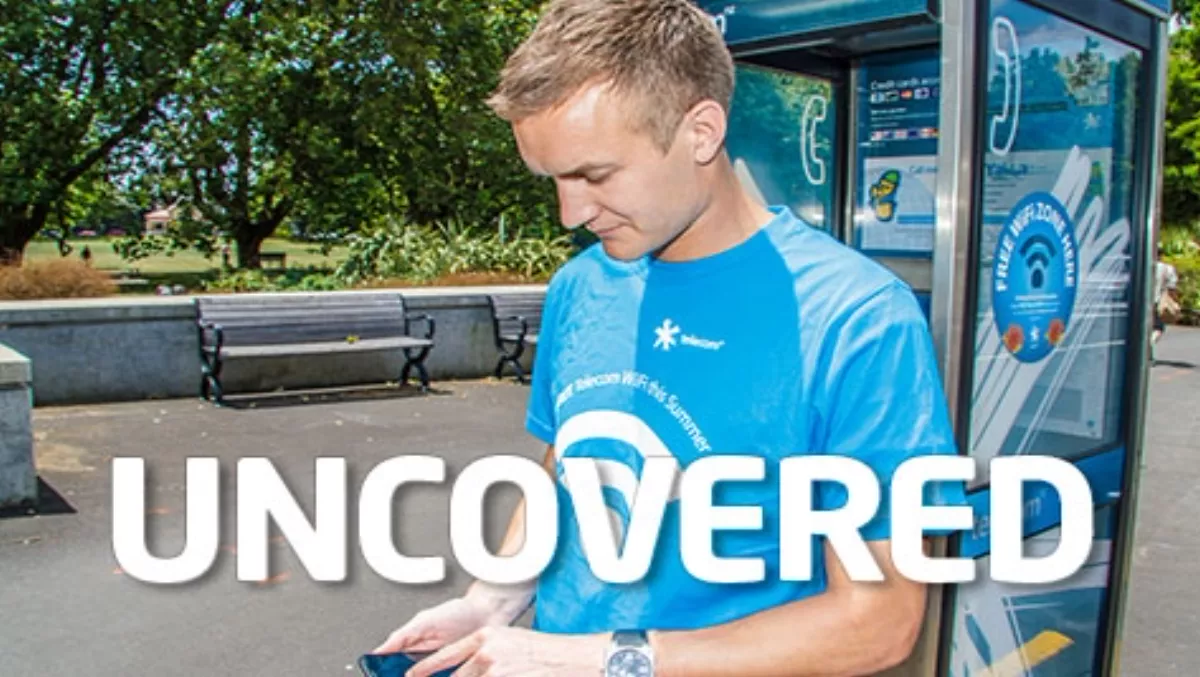 The secret agenda behind Telecom's Wi-Fi rollout
By Simon Hendery,
Fri 23 Aug 2013
FYI, this story is more than a year old
Telecom is building the country's largest public Wi-Fi network – comprising up to 3000 hotspots – saying recent trials have confirmed strong consumer demand for such a service.
Those trials have involved the company offering free Wi-Fi via access points installed at payphone sites in the main centres and popular holiday destinations.
The days of free access to the network are limited, however, with Telecom saying it will soon start charging for the service although it remains tight-lipped on how much consumers will have to pay.
The company's Wi-Fi push began in December last year when it announced free access through 120 hotspots – mainly upgraded phone booths – at holiday spots in Northland, the Coromandel, Bay of Plenty, Tasman and the Queenstown Lakes district.
So far this year it has added more than 200 hotspots to the network, mainly upgraded payphone sites in Auckland, Wellington and Christchurch, and says it aims to have 1,000 sites active by the end of 2013. The network will grow to between 2,000 and 3,000 access points over the next two years.
The Wi-Fi initiative is being overseen by Telecom Digital Ventures, a new unit set up by the company in April to focus on "high potential growth opportunities" under a corporate shake-up by CEO Simon Moutter.
Digital Ventures' senior vice president Ed Hyde told Techday Telecom received positive feedback from users of the trial network over summer and the technology had performed well despite unexpectedly high demand.
"A surprising amount of data was carried over that network over the period – in excess of 3 percent of our total mobile data traffic," Hyde said.
"That was a very interesting and encouraging statistic in terms of how much data traffic that network could support. That gave us a lot of confidence that strategically Wi-Fi should be a key pillar of our mobility story. Since that time, over the past couple of months we've been rolling out over our phone box network."
Building the network off the back of its 3,000 payphone sites makes sense because the booths are already equipped with electricity and backhaul data connections, and retrofitting them does not raise any resource consent issues.
Telecom has a deal with equipment vendor Ruckus to deploy its ZoneFlex 7762 outdoor dual-band 802.11n access points as the payphone rollouts continue, but not all of the company's phone boxes will be upgraded. The network will also include building access points hosted by "location partners" such as stadium and ski field operators. Equipment from other vendors, including Cisco, would be used where it offered the best technology solution for the location, Hyde said.
In a world where mobiles have made public payphones increasingly redundant, Telecom is not the first telco to see the benefits of retrofitting phone boxes to turn them into Wi-Fi hotspots. Other to embark on similar projects include PCCW in Hong Kong and Oi in Brazil.
As well as rejuvenating an expensive infrastructural investment by offering consumers an alternative to costly mobile data, the scheme has the added advantage of reducing cellular network congestion by "offloading" traffic from the telco's 3G and soon-to-be-launched 4G networks.
Cellular offloading wasn't the main reason for pushing the Wi-Fi network, however, says Hyde.
"It's a secondary focus of ours. The primary focus is providing a differentiated network experience for Telecom customers. But absolutely a secondary value is in data offload from the mobile network traffic, particularly in locations where the usage is very peaky. The holiday hotspots are a good example of that, where the data traffic over the Christmas period is exceptionally high and far higher than the rest of the year," he says.
"Overall we're seeing huge increases in mobile data, be that mobile Wi-Fi or cellular and we absolutely expect that growth to continue. So there's a challenge to make sure that we can keep up with that demand and in order to do that we see a combination of different technologies allowing us to provide great customer experience, great customer speeds and also cope with the volumes that we're transporting across the network."
The free access to its nascent Wi-fi network Telecom has been offering over recent months has also provided a marketing opportunity because registration has required users to supply a mobile number, although Hyde denies this has been top-of-mind for the company.
"It's not something we are actively pursuing at the moment. As part of the registration process the customer agrees that Telecom is able to communicate with them. At this stage we are surveying and calling small sample sets of customers that are using the service to find out how they are finding it, what they are using it for, and so on, in order to get feedback and ultimately create a better and more usable product."
Despite that research, Telecom is staying mum on how it will charge for the service when it moves on from the free trial which is likely to end sometime in September or October. It is hinting, however, that it may bundle access to the Wi-Fi network with other services as a loyalty incentive.
"From the feedback that we're getting we're really confident that we're absolutely creating value, but we're also very much focused on thinking about how we reward Telecom customers for having their business with us. We're very conscious of making sure that we find the right balance there," Hyde says.
The management of an earlier Telecom Wi-Fi network, set up around 2003, has been outsourced to payment technologies company SmartPay. Hyde said because the two networks operated off different core management systems, a decision would have to be made as to whether there would be benefit in investing in new technology to merge them.