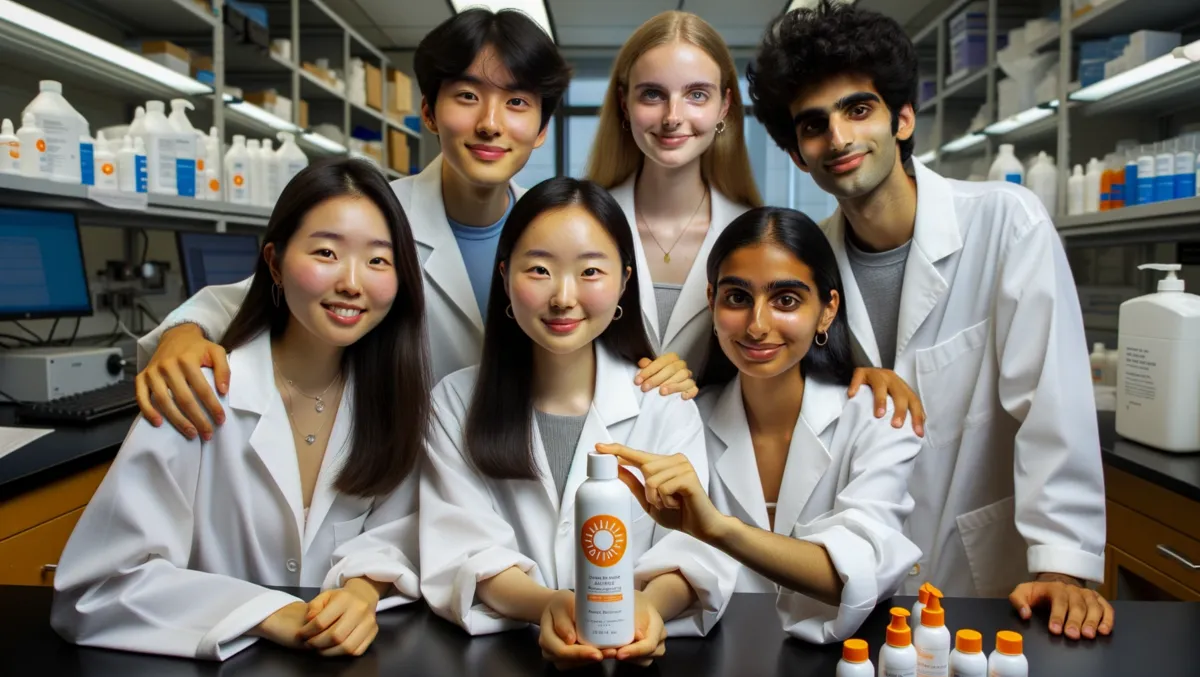 Velocity announces this year's winners of the $100k Challenge
Construction and demolition waste, detection of plant diseases and gender challenges on trade sites were just a few of the concerns tackled by innovators and entrepreneurs as part of the 2023 Velocity $100k Challenge.
The $100k Challenge is New Zealand's university entrepreneurship competition, delivered in partnership between a student committee and the University of Auckland Business School's Centre for Innovation and Entrepreneurship.
Over the last 20 years, thousands of people have participated in the programme, developing their entrepreneurial mindset, innovative capability, and enterprising skills.
This year, the winning venture, WasteXpert, spearheaded by undergrad law student Jean-Luc Ellis and his friends Max Lawton and Logan Soole, scored $25,000 seed capital. With approximately 50% of landfill in New Zealand coming from construction waste, WasteXpert aims to address this environmental challenge.
"Landfill waste is one of the biggest hurdles Aotearoa is facing on our mission to achieve net-zero emissions by 2050," says Ellis, who's undertaking law and science degrees.
"I began planning out ways to combat the problem and came up with three key areas that lay the foundations for WasteXpert - industry education, proper onsite implementation and minimisation, and the utilisation of data and tracking through our software. All of this combines to drastically decrease embodied carbon in the construction industry."
Ellis says the WasteXpert team were over the moon to win the $100k Challenge.
"This is a nationwide and industry-wide problem that requires an industry worth of support to tackle. Both financial and connection-wise, Velocity and Venture Lab's assistance will be pivotal in bringing about this industry change."
Five further teams took home a share of the $100k prize money to help kick-start their ventures.
The $15,000 runner-up award went to the team behind PlantPeepers, who created a monitoring tool to help greenhouse growers detect plant diseases and pests in their early stages. This will enable crop growers to proactively prevent outbreaks and reduce the need for pesticides, providing them with a more sustainable and efficient approach to managing their crops.
Meanwhile, four teams tied for third, with each awarded $5,000 seed capital.
Sanitary kits for female tradies
CycleMate, a start-up that aims to address gender challenges in the construction industry through self-managed sanitary disposal kits, will use the support to work towards setting an industry-standard in terms of providing appropriate sanitation facilities that are discreet and convenient.
The duo behind the venture, Amanda Rauner, who is studying a Bachelor of Commerce, and Rebecca Clapp, who's undertaking a Conjoint Bachelor of Commerce and Bachelor of Global Studies, came up with the idea behind CycleMate during a class on women in entrepreneurship.
"We were asked to develop a business idea targeting gender equality," says Rauner. "My partner is a (male) tradie, which led me to consider the potentially inequitable circumstances for women in the trades."
Through secondary research and market validation with female tradies, Clapp and Rauner identified an evident lack of sanitary care facilities on worksites and the resulting harms experienced by menstruating tradies.
"While we considered a company-based solution, we found that female tradies were much more receptive to a self-managed solution," says Clapp. "This led to the idea of CycleMate's portable sanitary disposal kit for menstruating tradies."
The commerce students say they were thrilled to win seed funding and will use it to contribute towards developing their idea and creating something tangible for female tradeswomen in the near future.
Additionally, they say that the mentorship that's now available to them, thanks to their success in the competition, will be invaluable in learning about early-stage ventures and building their commercial network.
"We are so happy and excited to take our business further," says Rauner. "Doing it for all the Kiwi and Australian tradeswomen we have spoken to as part of our market validation makes it all worth it."
Tackling a glaring issue
$5,000 and the third place title also went to team Glowguard to support their next-generation SPF50, which provides extended sun protection, is available in four flexible tints, and is housed in a first-to-market dissolvable refill system.
The team of five current and former University of Auckland students, Melitta Adam, Jenny Jung, Rafay Mitha, Isabel Klaja, and Grace Jung, combined their cross-disciplinary strengths to put forward their plan for a next-generation sunscreen.
"A staggering 90% of sunscreens only protect your skin for up to two hours," says Adam, who graduated with a Bachelor of Commerce in marketing and innovation.
"With our team's collective experience of over five years in the cosmetic industry, we came up with Glowguard, a formula that will speak to all skin types and skin tones in an effort to raise the bar of the beauty and skincare industry."
The team worked closely with Australian laboratories, trusted by Consumer NZ's sun safety campaign, to develop Glowguard in compliance with the world's strictest SPF guidelines. They also had a couple of excellent mentors, and now, with $5k in the bank and access to further mentorship, Melitta says the team will be able to take their ideas to the next level.
"We're excited, and deeply appreciative of the support we've received. This opportunity means that we can continue to develop Glowguard and significantly impact the skincare industry and beyond. It's a thrilling step forward in our journey, and we're excited to see our vision become a reality."
Meanwhile, team Resys was also awarded $5k for their tailored project management system for researchers that enhances collaboration, provides quick support access, ensures data security, and offers an intuitive experience with a feature-rich free plan that continuously adapts to their needs.
Third place also went to Smartbell for their innovation in the field of fitness equipment and tracking. Their smart machine-learning-powered dumbbells automatically track weight, reps and growth, which can be shared via the companion app, and provide real-time feedback on form to prevent injury and muscle imbalances.
20 years of Velocity
Director of the University of Auckland Business School's Centre for Innovation and Entrepreneurship (CIE) Darsel Keane says Velocity alumni use the knowledge and skills they acquire during the programme to build a wide array of careers across all industries.
Keane says, "With the Velocity programme celebrating its 20th anniversary this year, I'm proud to count 276 ventures, which have created 3,260 jobs and raised over $1.39 billion in capital."
"The sheer size of this year's competition is a testament to how deeply innovation and entrepreneurship is embedded within the university, spanning all disciplines. I'm glad to be able to watch so many promising future entrepreneurs thrive and carry their ideas out into the world."