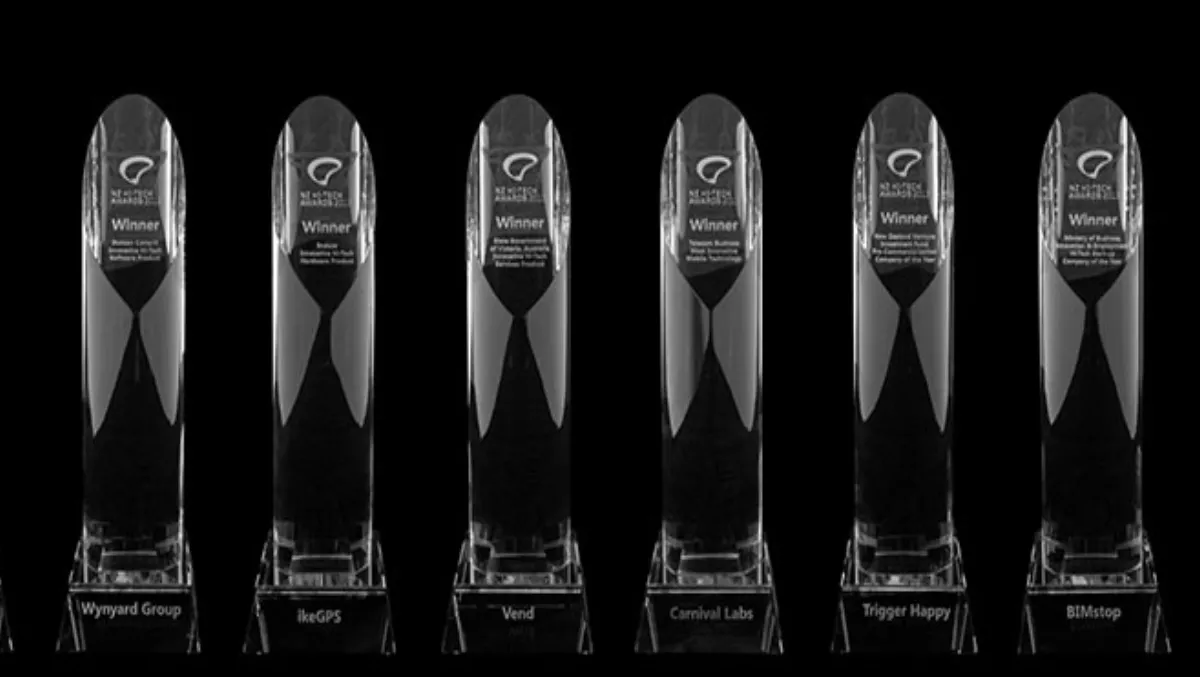 VMob most recognised company at NZ Hi-Tech Awards
FYI, this story is more than a year old
Kiwi mobile marketing firm VMob took out two awards at the 2014 NZ Hi-Tech Awards in Christchurch on Friday, winning Best Innovative Hi-Tech Mobile Product and Best Innovative Hi-Tech Service Product.
In what was the 20th New Zealand Hi-Tech Awards, judges reported the calibre of this year's entrants exceeded expectations, making the job of selecting winners exceedingly challenging for the more than 50 local and international judges who assessed entrants across the 12 award categories.
For VMob CEO and founder Scott Bradley, coming out on top at the awards highlights the proven success and value of VMob's offering.
"It was such a strong field this year – so we're thrilled to have VMob recognised for the significant traction we're making in market," he says.
The multi-award winning VMob mobile marketing platform has powered international campaigns for retail heavy-weights McDonald's, Exxon, local loyalty giant Fly Buys and Auckland's Heart of the City, delivering campaigns using smartphone apps with loading capacity for individualised content to millions of users simultaneously.
"Our proven technology software continues to perform at scale both here and overseas, generating measurable results and delivering significant ROI for clients," he adds.
Bradley says that while VMob is rolling out unique mobile marketing campaigns with the technology, it's not so much the technology behind the product that won them the award, but the way they are using it.
"We're reaching a point where there is just so much data at our disposal and so much computing power available to work with it that anything is possible," he adds.
"When we started working on our platform, we wanted to not only use the latest technology but do it in a way that was useful, and most importantly, easy.
"We're taking a really complex database system and making it fast and simple for retailers to use within their business."
The IBM Hi-Tech Exporter of the Year Award for companies under $5m was also hotly contested, with judges so impressed with the entry from Animation Research that they took the unprecedented step of recommending a special award be made in recognition of the company's contribution to the industry.
Along with VMob, Orion Health and Vend were also standout winners this year, all winning two awards each, with VMob also being singled out for a special commendation in a third category.
Orion Health won the big award of the night, the PwC Hi-Tech Company of the Year Award for 2014, and also took home the NZMEA Hi-Tech Exporter of the Year Award for companies over $5m.
"Orion Health has demonstrated outstanding year-on-year growth, substantial business acumen in a terribly complex and competitive market, and amazing international diversification," the panel said.
"It is no small achievement that Orion Health has obtained 49 of the 50 US States as customers.
"Orion Health is simply a standout example of a New Zealand company that has achieved global presence and financial scale through product and management excellence."
Vend scooped up the Cisco Hi-Tech Emerging Company of the Year Award, and, for the second year running, the IBM Hi-Tech Exporter of the Year Award for companies under $5m.
"With 10,000 customers located in 140 countries, Vend is clearly well on its way," the panel added.
"It's also very pleasing to see they have been able to rebuff all approaches to locate offshore which is testament to their determination to remain a Kiwi company."
The 2014 NZ Hi-Tech Award winners are:
Fronde Hi-Tech Young Achiever AwardWinner: Guy Horrocks – Co-founder of Carnival Mobile
New Zealand Trade and Enterprise Best Contribution to the New Zealand Hi-Tech Sector by an Internationally Headquartered CompanyWinner: Microsoft
IBM Hi-Tech Exporter of the Year Award - Under $5million Winner: VendSpecial Lifetime Achievement Award: Animation Research
NZMEA Hi-Tech Exporter of the Year Award - Over $5million Winner: Orion Health
Duncan Cotterill Innovative Software Product Award Winner: MindscapeHighly Commended: VMob
Endace Innovative Hardware Product Award Winner: Delta Strike InternationalHighly Commended: Dairy Automation
Grow Wellington Innovative Service Product Award Winner: VMobHighly Commended: Mindscape
UK Trade & Investment Innovative Mobile Technology Award Winner: VMob
Callaghan Innovation Pre-commercialisation Company of the Year Winner: Vigil Monitoring
New Zealand Venture Investment Fund Hi-Tech Start-up Company of the Year Winner: Smart Water TechnologyHighly Commended: Timely
Cisco Hi-Tech Emerging Company of the Year Winner: VendHighly Commended: Movio
PwC NZ Hi-Tech Company of the Year Award Winner: Orion Health
Related stories
Top stories