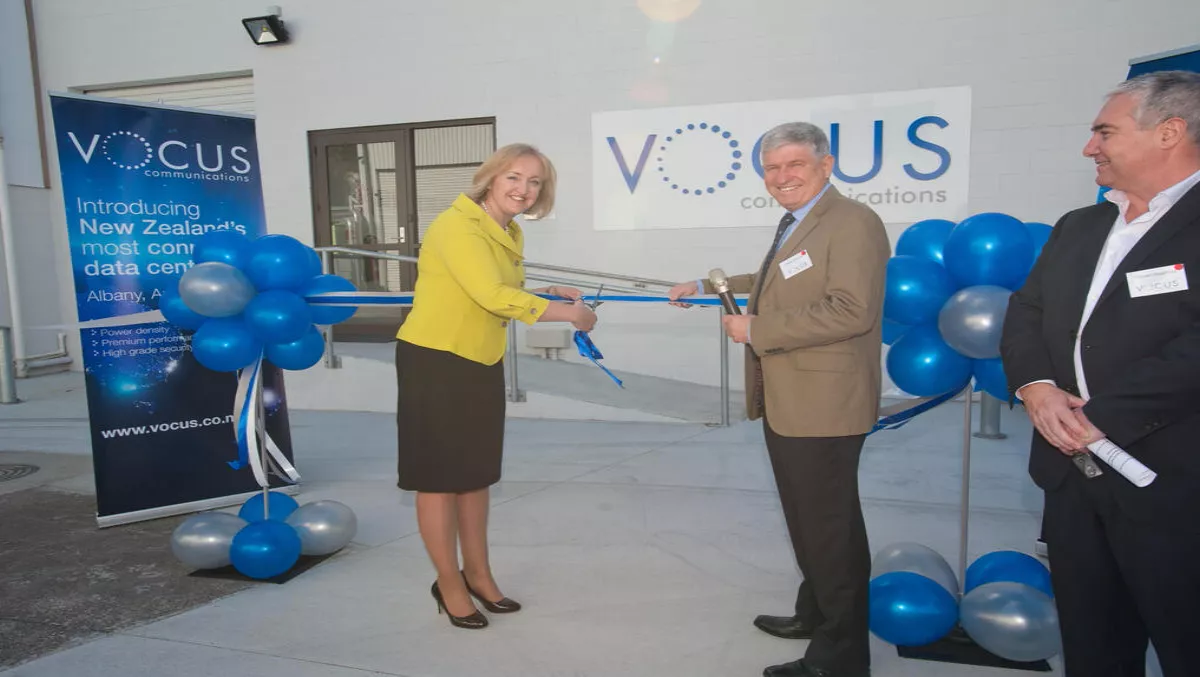 Vocus unveils New Zealand's 'most connected data centre'
FYI, this story is more than a year old
Vocus Communications has unveiled New Zealand's "most connected data center" this morning, revealed by Minister for Communications and Information Technology Amy Adams on Auckland's North Shore.
The new multi-million dollar data center, located at Vocus' New Zealand head office in Albany is a state-of-the-art facility which boasts local and global connectivity unrivalled in New Zealand.
"Congratulations to all of the Vocus team for an incredible past 60 months," Adams says.
"In some ways it is no surprise to see the growth and success in businesses such as Vocus given the services the company offers and the great track record of their business.
"It is also no surprise given our ever increasing need for data which a thirst we can never quench.
"When you're a little country at the bottom of the world which makes it living selling its business to the rest of the world - connectivity is crucial."
The new multi-million dollar data center links directly to Vocus' own international fibre optic network, the data center provides direct paths to Australia, the United States and Asia – where most of the world's major content providers are based.
It also connects directly to all other main telco carriers offering diverse access.
Being connected to an exceptionally fast, diverse network is one of the main benefits the Albany data center offers New Zealand businesses, says Vocus Communications Chairman David Spence.
"As more businesses move to cloud-based applications, they discover not all internet is created equal," he says.
"The faster your data moves, the more productive your business performs. So the route which data travels is now a major business driver."
Another point of difference of the new data center is its capability to cope with huge power demands, supplying up to 30kW of power and cooling per rack, allowing customers to choose hardware based on their business needs and not on the power restrictions of the data center.
Spence says the facility also offers resilience, reliability and redundancy, and is backed by Vocus' proven track record in network and data center management.
"Our track record speaks for itself," he says.
"For nearly a decade, our neighbouring facility has delivered 100 per cent uptime of power and cooling.
"And with sound SLAs in place, this data center is a refreshingly reassuring environment to be."
To remove the risk of power failures, the facility is powered through separate substations, while on-site generators and multiple UPS units further protect the data center from power failure and downtime
The facility has been designed by one of Australasia's most experienced teams of data center engineers who have applied sustainability, efficiency and scalability principles throughout. Efficiencies have been gained through water-based cooling technologies, roof design, hot aisle containment and power distribution.
The new data center provides capacity for over 60 high availability racks. This is an addition to the 200 + high availability and colocation racks at Vocus' adjacent facility.
Meanwhile, customers have a unique way to monitor and manage their hardware in the data center remotely through the Vocus View smartphone application.
With the free app customers can monitor power use, view live reports, have keyless entry to their rack and receive a range of notifications.
According to Spence, the investment in the new data center is evidence of Vocus' on-going commitment to the New Zealand market.
"In addition to the investment in this state-of-the-art infrastructure, in the past year we've also significantly increased our New Zealand-based team and relocated our Asia Pacific Network Operations Centre, the heart of the Vocus network, to Auckland," he says.
Key features of the new Albany Vocus data center include:
• Unrivalled, diverse international connectivity via the Vocus network
• High-power densities of up to 30kWs per rack
• Separate transformers, 2N UPS, 2N diesel generators on site
• On site fuel supply lasting in excess of 24 hours
• High security with 24/7 on site staff, biometric security, swipe card access and CCTV surveillance
• Caged areas available in minimum configuration of 16 racks (60 racks in total)
• Colocation space available in full and half rack increments
• Design redundant N+1 chilled water cooling system
• Power usage efficiency (PUE) 1.3
Related stories
Top stories