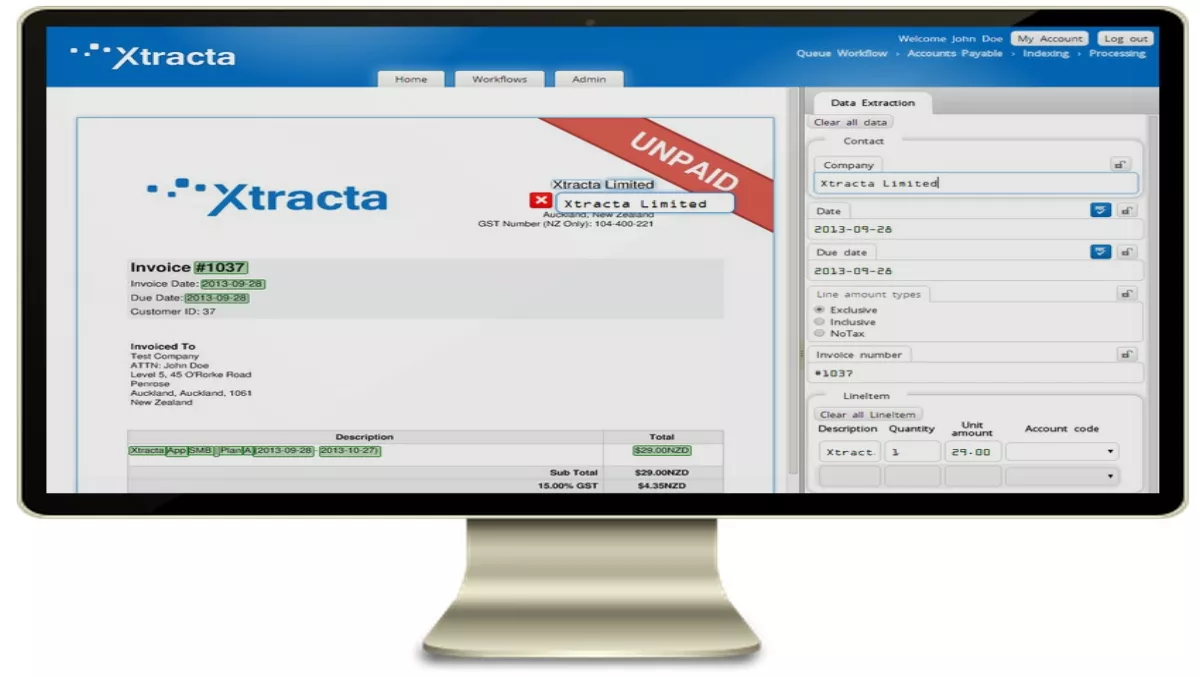 Xtracta releases "game-changing" app
FYI, this story is more than a year old
Xtracta, a kiwi based startup is set to revolutionise traditional data entry through its game-changing product, the Xtracta App.
The app is designed to help businesses easily decrease costs by removing the need for manual data entry, while also improving data accuracy.
Focusing on user productivity, the Xtracta App matches highly accurate and fast OCR, an easy to use web interface and its own "artificial intelligence" technology - offering near completely automated data entry with practically no limit to the data extracted per document. It's unique, self-learning A.I. technology requires virtually no setup and users can be up and running within minutes.
The App has seen fast growth since its release in July, already processing in excess of 200,000 pages per month. Uptake has been from a wide range of industries & company sizes both from New Zealand and abroad. Businesses using the product have reported significant savings in labour costs and accuracy improvements - many mid-sized kiwi companies are reporting savings of one or more full time equivalents.
The Xtracta App is a cloud based product with no contracts and a SaaS based pay-monthly pricing model. The model has enabled Xtracta to create a mass market product which is applicable to companies of any size and any need - and has meant it can be rolled out for any organisation with minimal cost or disruption.
The founder of Xtracta - Jonathan Spence wanted to ensure that he developed cost effective software which is affordable and easy to deploy - costing as little as $0.01 per page. Developing the revolutionary Xtracta App was an easy decision for Spence after struggling with poor incumbent software while working in the scanning bureau industry.
"Essentially, the Xtracta App helps companies dramatically reduce data entry costs while being very easy to deploy for any organisation". "Working in the IT space, I had become all too experienced with having to deal with poorly designed and overly expensive software". "I knew we could do better and bring the concept of automating data entry to virtually every business where it's complexity and price made it only available to large organisations previously."
In essence, this is so much more than 'just another app' - allowing a hands off need for capturing data.
"The system will automatically understand what data you want to capture from a document based on advanced learning algorithms," Spence adds.
Creating a solution which converts physical or digital documents into usable data:
• A web based data capture system which can remove the need to perform manual data entry from physical (ie paper) or digital sources (ie PDFs). Digital data can then be passed to virtually any system.
• Perfect for all types of document but especially transactional such as invoices, delivery dockets, purchase orders etc. Integrates with software like Xero, SAP, MYOB, Oracle, Infusion and many more.
In an era where company resources are being stretched to the limit on a daily basis, find out how the Xtracta App can significantly save your business time and money by clicking here.
Related stories
Top stories