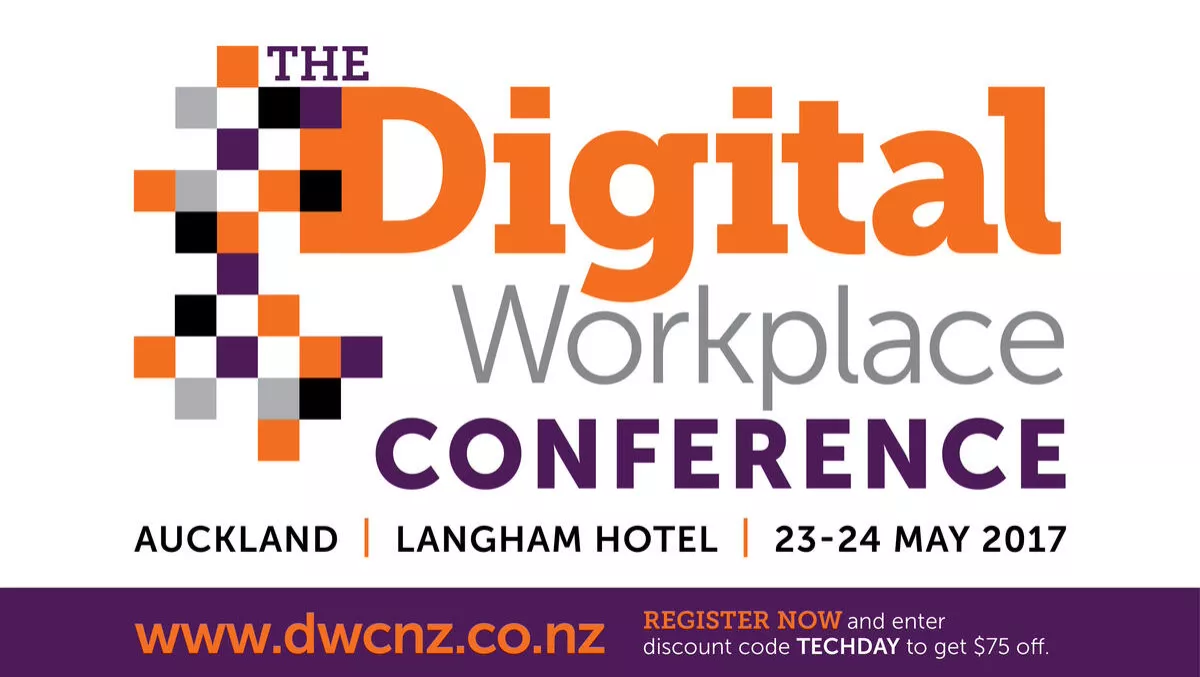 You're invited: 2017 Digital Workplace Conference
FYI, this story is more than a year old
Pencil it in now - Tuesday 23 and Wednesday 24 May 2017 at The Langham Hotel, Auckland.
Do you want to build a productive workplace for your organisation?
Of course you do - so the 2017 Digital Workplace Conference is the place for you.
In today's digital world, the way we communicate and work is constantly impacted by the technology we engage with. In the digital workplace, to keep up – we need to evolve.
Get the skills, knowledge and tools you need to fuel your organisation's evolution at this year's conference.
Now in its ninth year, the event is expected to attract around 400 delegates. And for only $1,050 (+GST) – you could be there too.
Get on board for the full two days, or get a Day-1 only pass.
The conference attracts a wide range of business-minded people, including managers, decision-makers, CIOs, industry leaders and end users. If you are involved in your organisation's intranet, team collaboration, business processes or document management, this is the event for you.
A full agenda is planned over the two days. The conference will maintain its usual high calibre of speakers, from renowned international speakers and industry experts that are in high demand around the world, to a range of specialised local speakers.
Debbie Ireland, Managing Director of ShareThePoint Ltd and conference organiser, says that the aim of the event is to have fun, to learn and to be inspired.
Debbie introduces the three main streams of content for event attendees: business productivity, thought leadership and implementation.
"Delegates coming to #DWCNZ will have the opportunity to learn how to enhance workplace efficiency, productivity and communication strategies, while also developing and strengthening their expertise in Microsoft Technologies."
"There is still a strong emphasis on Office 365 and SharePoint content. But the conference now offers far more than that - as we build our readiness for the 21st century workplace," Debbie adds.
The two-day event is packed full of live demonstrations, presentations, prize draws and exhibitions, including a wide range of specialist vendor products and services on display.
With a rich concentration of specialists, industry leaders and product vendors, the Digital Workplace Conference is your chance to learn from the best. It's your source of inspiration. It's your chance to meet new people and to build a support network.
But, it doesn't stop there: pre- and post-conference workshops in technical and business areas are also on offer.
"This gives delegates a unique opportunity to participate in learning from the best in the business – whether starting from scratch, training or up-skilling," says Debbie.
Make sure you get in early for these exclusive opportunities.
In a digital workplace – improving the way you work means increasing your team's productivity so your organisation can deliver better results.
Want to learn how? Register today.
For more information, visit http://www.dwcnz.co.nz/ or email events@sharethepoint.com