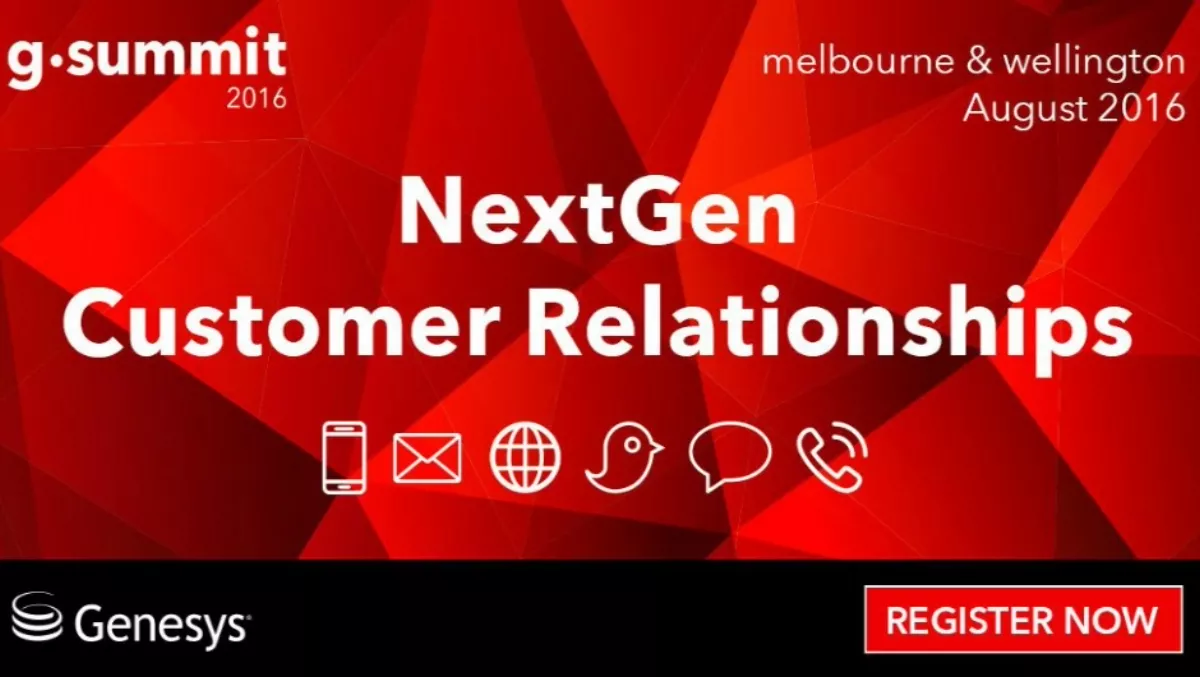 YOU'RE INVITED: G-Summit – the world's most extensive CX roadshow
Thu, 28th Jul 2016
FYI, this story is more than a year old
By Ashton Young, Editor
There is little doubt, the digital revolution has fueled competition amongst businesses across all industries. The customer has gained more choice and control over what they want, how they want it and when (most of the time it's yesterday).
This is when customer experience (CX) becomes critical to a business's operations, and essentially, their very existence.
It was for this reason that Genesys, the market leader in omnichannel CX and contact centre solutions, created the global G-Summit roadshow series. Gathering visionaries, customers, partners and industry thought leaders from across the region, participants are able to garner invaluable insights from engaging and dynamic speakers and take part in interactive presentations. Not to mention the chance to meet the experts and network with like-minded experts.
The theme for the 2016 G-Summit is "Delivering next-generation customer relationships today", showcasing how Genesys customers are using their innovations to greatly simplify the deployment of CX technologies from the contact centre to the back office, including expertise, insights and unique perspectives on how to manage the CX.
"G-Summit Wellington and Melbourne presents a unique opportunity to meet our business and technical leaders responsible for the Genesys CX Platform and discover competitive advantages that can be delivered through exceptional customer experiences," says James Walford, Solution Consultant - CX Thought Leader at Genesys.
"This year's G-Summit has been tailored specifically to the ANZ market providing our customers and partners with the knowledge they need to transform their CX operations. We will be demonstrating how our global customers have successfully undergone digital transformation with our world-class omnichannel solutions, as well as providing topical breakout sessions with focus around Customer Engagement, Employee Engagement, and Business Optimisation."
The G-Summit will be taking place in Wellington on Tuesday the 2nd of August and in Melbourne on the 9th of August.
If you would like to know more and to register your interest, click here.