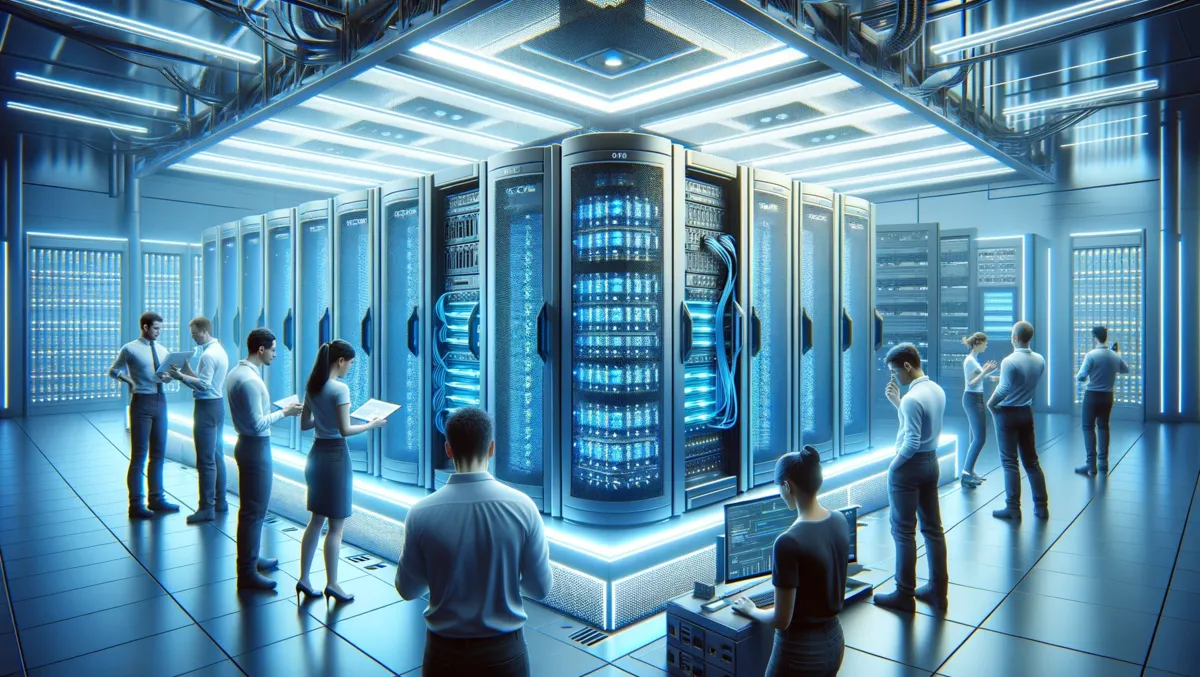 Cloudian, AMD, and Micron set new object storage performance and efficiency standards
In a groundbreaking collaboration, Cloudian, AMD, and Micron have announced significant advancements in object storage performance and energy efficiency. The companies have set a new standard with Cloudian's HyperStore 8.0 object storage software, which is powered by a next-generation AMD EPYC 9454 CPU and Micron 6500 ION solid-state drives (SSDs).
The state-of-the-art system has achieved remarkable performance metrics, delivering over 17.7GB/s write and 24.9GB/s read speeds from a cluster of six power-efficient, single-processor servers. In tests conducted by Cloudian, the platform exhibited a 74% improvement in power efficiency compared to hard disk drive (HDD)-based systems.
Cloudian's object storage solutions are increasingly finding applications in data-intensive use cases that demand high throughput, such as data analytics and artificial intelligence/machine learning (AI/ML). Michael Tso, CEO of Cloudian, said, "Our customers need storage solutions that deliver extreme throughput and efficiency as they deploy Cloudian's cloud-native object storage solutions in mission-critical, performance-sensitive use cases. This collaboration with AMD and Micron demonstrates that we can push the boundaries, delivering cutting-edge all-flash solutions that empower organisations to meet the ever-increasing demands of data storage and management."
The breakthrough is particularly timely given the rising costs of electricity, especially in the European Union. According to management consultants McKinsey, power costs in the region are expected to remain at three times the levels seen in recent years. Power efficiency is becoming a pivotal factor for organisations that aim to manage their operational expenses effectively. The newly unveiled platform reportedly reduced power consumption per GB transferred by more than 74% compared to previously tested HDD-based systems.
The HyperStore 8.0 software incorporates advanced multi-threading technology and kernel optimisations to make the most out of the next-gen AMD EPYC 9454 processor. The CPU's 48 cores and 128 PCIe lanes enable revolutionary I/O bandwidth capabilities. Kumaran Siva, corporate vice president of Strategic Business Development at AMD, stated, "Our 4th Gen AMD EPYC processors are designed to power the most demanding workloads, and this collaboration showcases their capabilities in the context of object storage."
The system was further optimised to leverage the Micron 6500 ION SSDs, which offer over 30 times more 4KB random write IOPS than competitive QLC SSDs. "Micron is committed to providing innovative storage solutions that enable businesses to thrive," said Jeremy Werner, corporate vice president and general manager of Micron's Storage Business Unit.
With its scalability, advanced security features, and support for hybrid clouds, Cloudian's HyperStore continues to be the storage solution of choice for organisations seeking cost-effective and flexible options. The Object Lock feature in HyperStore even defends against ransomware, ensuring data integrity and security. The evaluation software for Cloudian HyperStore 8.0 will be made available this month, offering a glimpse into the future of efficient, high-performance storage solutions.