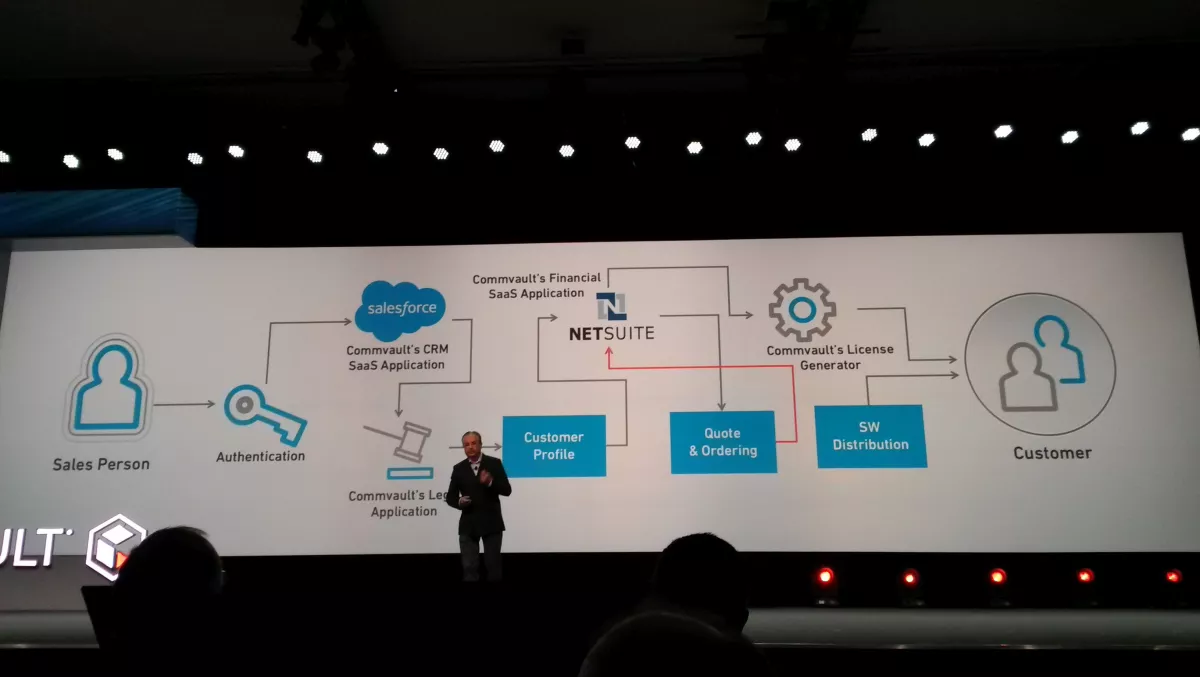 Commvault CEO Bob Hammer shares the five fundamentals of holistic data management
FYI, this story is more than a year old
"As an industry, we are at a major tipping point. We are all being driven to the cloud".
Those are the words of Commvault's CEO Bob Hammer as he address the large crowd of customers, partners and media at Commvault GO in Florida this morning.
It's not only the cloud that Hammer says will be the future of technology.
"It's all about the data. How to manage it, and how to get more from it".
But it's getting more difficult as cloud and mobile demand different solutions, data and data management become more complex.
Hammer detailed the three guiding principles that shaped Commvault's core mission: a culture of innovation, unmatched customer service and support, and that the value is in the data.
"All data is not created equal. You can't manage it if you can't understand it," Hammer explained.
When understanding data and creating meaning from it is critical to business applications, analysis and growth, Hammer outlined the five fundamentals of holistic data management, which he says is based on twenty years experience with customers and partners.
The five fundamentals:
Know your data before you manage it: A simple data index with a limited number of attributes just will not work. Organisations need to have control over storage whereabouts, security, availability, disaster recovery, test/development, reporting and business analytics. Hammer says that indexing must be dynamic, unlimited and expandable over time for total data organisation.
Federate your data: Data is no longer limited to data points and silos, instead they may not even know where it's located. Federating data protects, recovers, moves, finds and delivers apps that span different infrastructures, without the hassle of moving it from locations.
Mobilise your data: Organisations must enact management and data protection across all devices and in all locations, whether it be cloud, mobile, virtual environments or others. Hammer says data backup on those devices prevents data loss, because "Users don't care about data risks until it's stolen or compromised".
Govern your data: "Complying with an increased levels of rules and government is a reality today", Hammer says. Industry regulation and being complaint with laws for data that has no specific geographic location means organisations should federate under one corporate governance capability. This allows for understanding of what data they have, where it resides and development of compliance policies.
Secure your data: Better techniques are always needed to secure data, especially when hacks, ransomware, malware and other threats coming from both outside and inside the organisation. Hammer recommends a securitisation strategy that includes authentication of the user, their rights and data security including encryption and password protection.
"The five fundamentals provide smart advice for organisations to launch a holistic strategy and gain insights and value from their data in disparate environments. Commvault's Data Platform is focused on solving customer challenges and these are essential guiding points for enterprises to succeed and thrive while facing changing circumstances," Hammer says.
The Commvault Data Platform "represents a massive amount of innovation", building on eighteen years of experience through use cases specifically from data.
Hammer believes that the platform adheres to all five holistics, and has been built in a way that mirrors what has happened in the cloud space.
The platform-centric approach also empowers organisations, driving value and business insight through streamlining and easy data management that eliminates downtime and workload impact.
"We have a massive amount of technology coming to the market," Hammer says.
With new service packs being introduced every 90 days, enhancements cover standalone, software-defined storage and business applications.
Software-defined storage. "Commvault has always been software-defined. We've always separated the logical from the physical," Hammer says.
Hammer believes the future of business analytics is in richer APIs and integration with other platforms including NetSuite and a CEM SaaS application with Salesforce.
"The platform makes it possible," Hammer concludes.