Partner content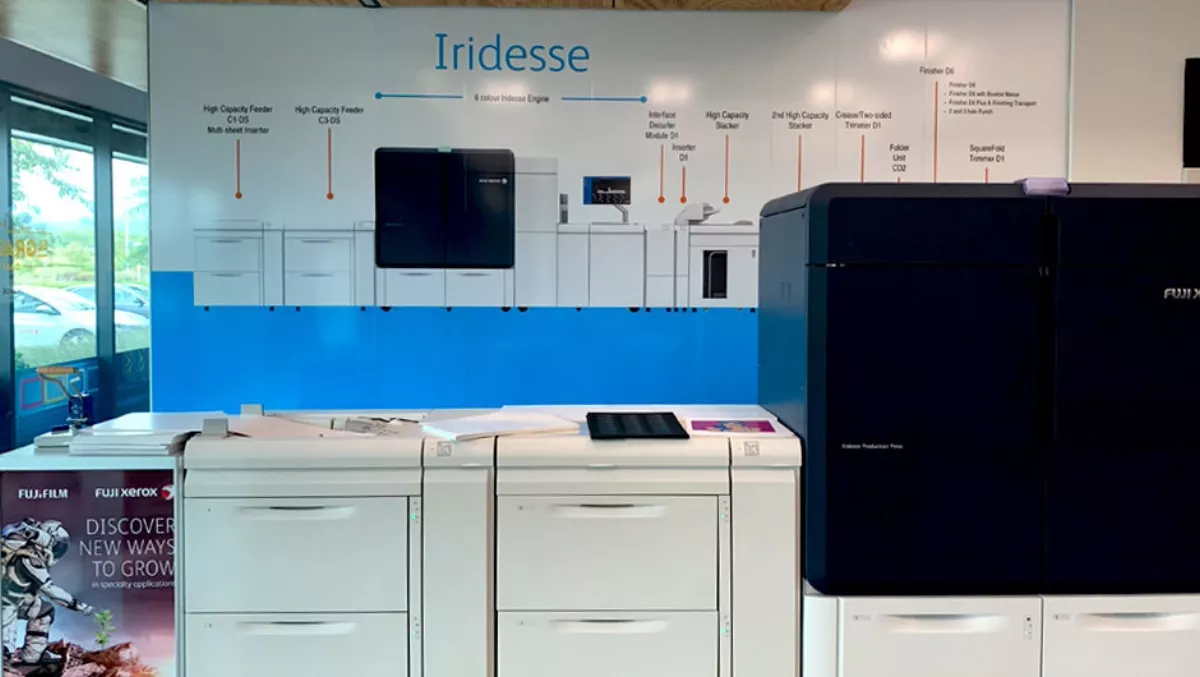 Fuji Xerox raises the bar with Iridesse production press
FYI, this story is more than a year old
Last year, Fuji Xerox launched its Iridesse printing press, a production printer that truly raises the bar and surpasses expectations.
The Iridesse brings together the best of Fuji Xerox's proprietary technology from its Yokohama and Ebina research and development labs to bring key capabilities to the production press.
Featuring the first six-colour print engine from Fuji Xerox, it is able to print different eye-catching specialty colours including metallic colours with a single pass, by housing up to two additional specialty dry inks of gold, silver, clear and white in addition to the common cyan, magenta, yellow and black (CMYK).
This gives the Iridesse the unique ability to reproduce colours with the added complexity of making them glossy, shimmery or metallic; still retaining the richness and vibrance of the colour regardless of the texture and thickness of the stock it's printed on.
The dry ink technology used means that the variables in colours and finishes can be fine-tuned to a highly granular level with software and still meet the expectations of printers from digital display to printed paper.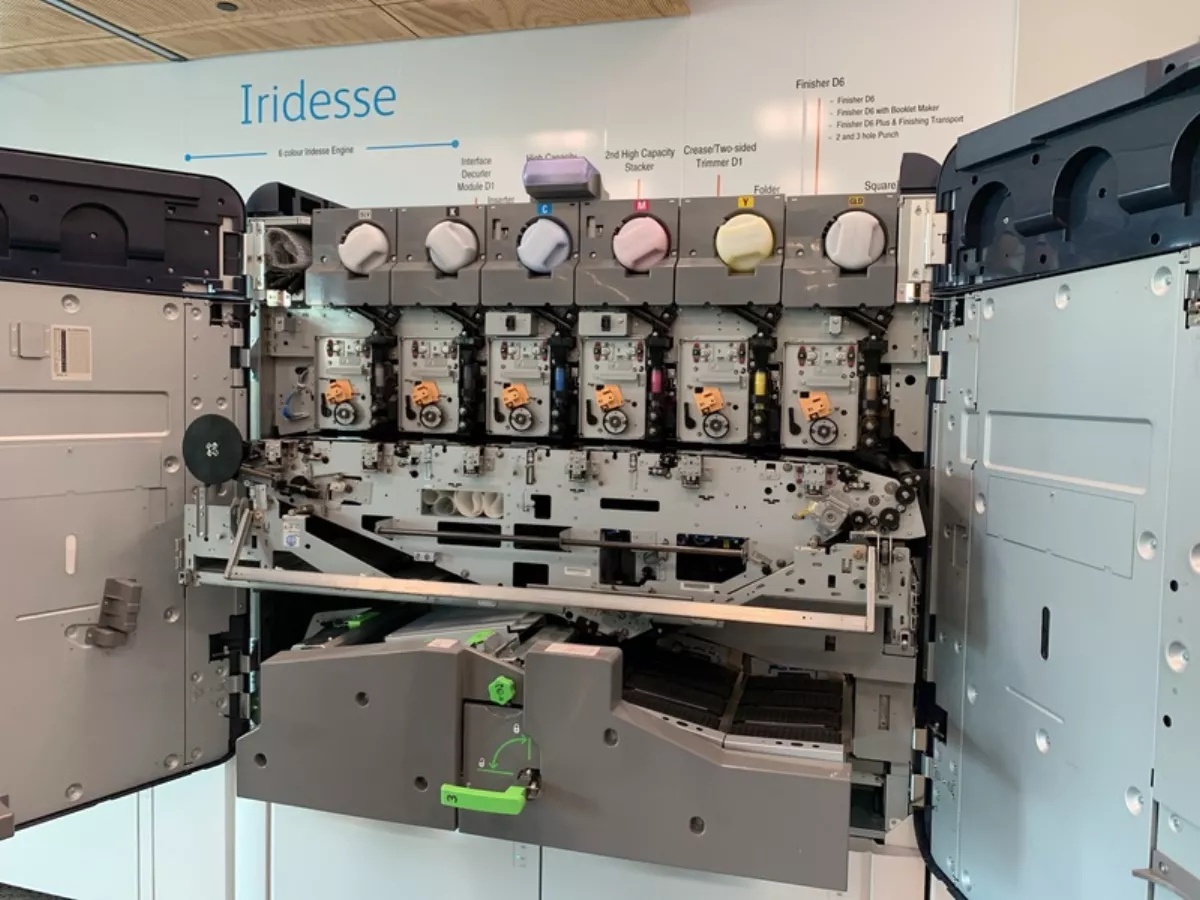 Compared to prints using only conventional CMYK dry inks, these special dry inks expand the range of expression, produce premium finishes, and offer marketers a printer a whole new range of possibilities, which adds value for effective marketing activities.
For example, white ink allows the Iridesse to easily accommodate printing on dark coloured or other specialty papers, while clear ink "allows us to print on highly textured paper without affecting the colour of the ink," Fuji Xerox New Zealand Marketing Product Manager Alistair Egan says.
"Previously, the fusing process would cause the toner to change colour from the heat – that's no longer an issue with our clear ink."
Pantone-grade metallic colours
The newly launched print engine enables CMYK dry ink layers to be processed on top of or below the special dry ink layer.
While conventional offset printing requires mixing silver ink to make metallic ink, this new product realises simultaneous printing of several metallic colours during a single printing process.
The standard colour library equipped in the product contains Pantone+Metallic and Pantone+Premium Metallic, which are swatches of metallic colours commonly used in the printing industry.
By utilising these colour swatches, the operator can reproduce colours similar to Pantone metallic colours by simply designating the colour codes. The Iridesse reproduces high-quality colours, regardless of the hue of the paper it is printed on.
Dry ink technology
CMYK dry inks are made of High Definition EA Dry Ink (hereinafter HD EA Dry Ink)—one of the world's smallest particle size toners capable of printing at up to 2400dpi (dots per inch) resolution.
The HD EA Dry Ink fuses quickly at low temperature and is evenly fused onto the paper by utilising Fuji Xerox's marking technology that evenly transfers six layers of dry inks.
The Iridesse Production Press is also highly productive, printing 120 pages per minute on 400 gsm paper.
Also, a range of finishers like booklet makers, trimmers, and folding/creasing units can be connected to the Iridesse Production Press to automatically produce professional booklets and leaflets.
These finishing options expand the possible printing applications by enabling to produce complex folded leaflets including accordion-fold and gate-fold.
What it means for the industry
Against the backdrop of rapidly diversifying consumer needs, the printing industry is adjusting its use of printing techniques.
Instead of just relying on conventional offset printing, which performs well for high-volume jobs, more businesses are choosing on-demand printing, which is shorter in turnaround time and just prints the necessary number of copies for catalogues, manuals, and advertising materials.
While offset printing involves significant time and cost for making plates, adjusting colours and proofreading, digital printing can process jobs with less time and cost and add value to printed materials.
Enhancing the value of print products with the use of their capital equipment, such as digital printers, is critical for printing companies to grow their businesses.
Fuji Xerox Pre- and Post-Sales Analyst Mark Northin says, "The Iridesse is really great for traditional printers who want to branch out.
"It's a low-maintenance press that requires five minutes of preparation to run all day, making it the most productive for printers who want to add flexibility in their offerings."
Related stories
Top stories