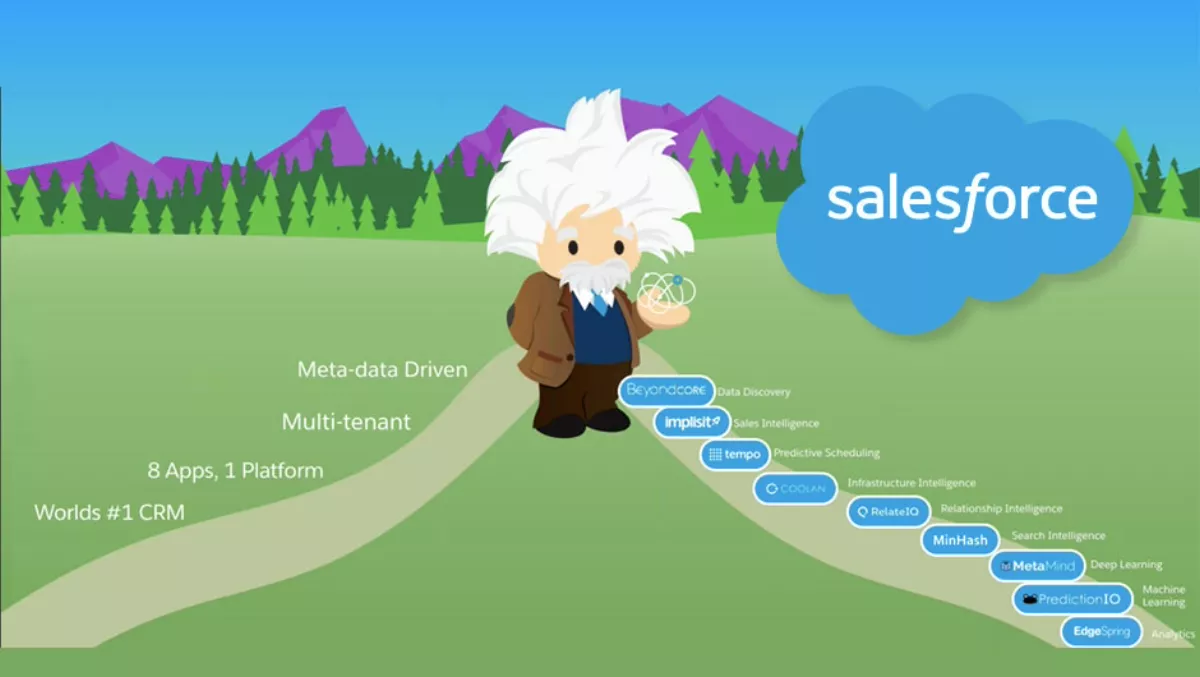 How Salesforce got into the artificial intelligence business
FYI, this story is more than a year old
Founded 17 years years ago, Salesforce is now the undisputed leader in customer relationship management (CRM). While its competitors have cumbersome legacy systems that they're slowly migrating to the cloud, Salesforce is baggage free and was born in the cloud.
Being born in the cloud is not only a help to its developers, but also it's an attitude. It's that attitude that the company has plenty of.
In recent years it's lead so many categories of the IT industry that its difficult to count. Their product range has swelled from CRM to case management, email systems and marketing automation amongst many others. Beyond technology it's also a leader in numerous social issues like the gender pay gap.
Well they're about to do it again, this time it's arguably the most significant technological change the company has ever worked on.
They want to take artificial intelligence and machine learning and make it accessible to all businesses of all sizes.
Salesforce isn't afraid of acquisitions, with 44 in the last decade alone. In just the area of artificial intelligence, machine learning, recommendation engines and predictive analytics, it's made nine key acquisitions in recent years:
Beyond Core – Systems to analyse millions of data combinations in minutes, for unbiased answers, explanations - recommendations.
Coolan – A crowdsourced predictive analytics engine, with specialist focus on the data center.
Implisit Insights – A tool to boost sales team performance and revenue generation using predictive analytics.
MetaMind – A powerful artificial intelligence engine to automatic recognise things within images.
MinHash – A data science and assistive intelligence business.
PreductionIO – An open source machine learning server
Prior Knowledge – Tools for developers to build cloud services and products to provide insight into data, such as Veritable, a predictive database for developers.
RelateIQ - Offers a relationship intelligence platform that allows teams to track, share and analyse professional relationships.
TempoAI - Tempo AI develops Tempo Smart Calendar, a mobile productivity app that organises the user's day.
All of these acquisitions have enabled Salesforce to assemble a crack squad of over 175 data scientists. Today it announced that these will join researchers and developers in a new research group under the leadership of Richard Socher, Chief Scientist at Salesforce. Socher was previously the CEO - CTO of one of SalesForces acquisitions MetaMind.
The Research Group will be focused on delivering cutting-edge, breakthrough AI research across deep learning, natural language processing and computer vision to Salesforce's product and engineering teams.
The group will demonstrate the companies first artificial intelligence examples under the name SalesForce Einstein at the companies massive Dreamforce event in San Francisco next month.