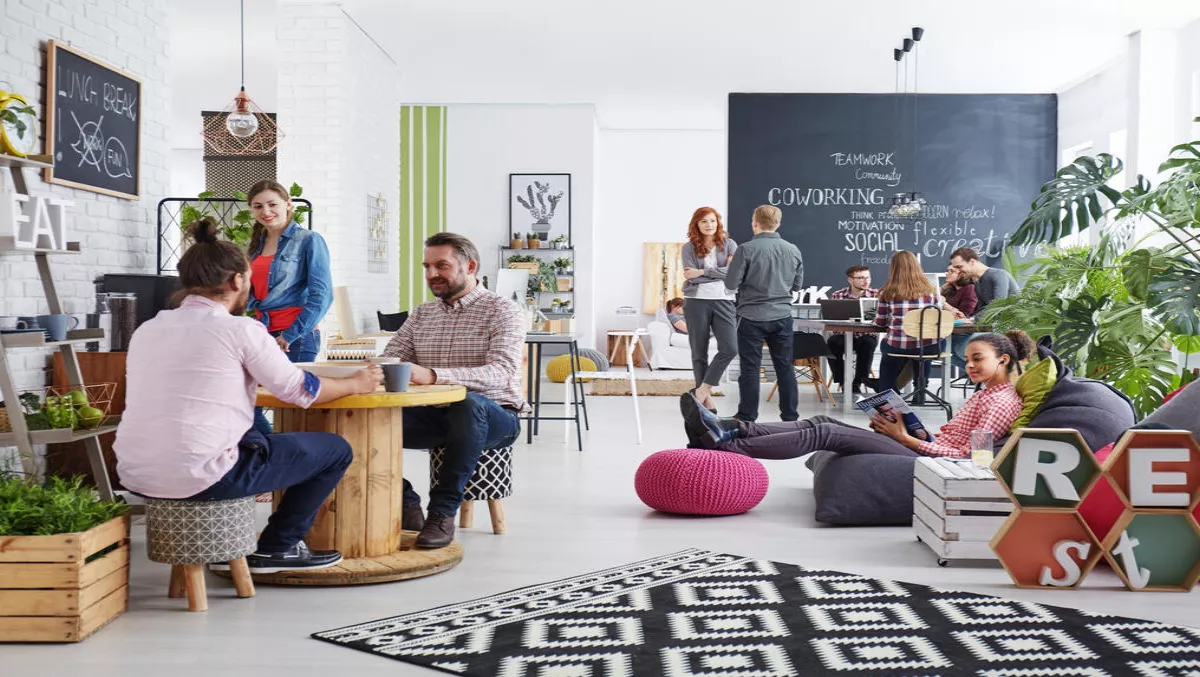 Intelligent workplaces are now essential - here's how you create one
Wed, 11th Oct 2017
FYI, this story is more than a year old
By Julia Gabel, News Editor
Workplaces of the future extend far beyond office walls – allowing employees to be productive and to collaborate with each other seamlessly and securely at any time, and anywhere.
Geographically dispersed employees and remote workers are connected with those in the office through technology that gives them access to the applications and data they need.
They can use a mobile phone to do everything from joining video conference calls to operating electronic whiteboards.
This is the world of intelligent spaces and the objective is simple: Create a workplace that adapts to the way people want to work.
And if it's done right it will unleash a new kind of innovation, creativity, and productivity, ultimately creating the most efficient workplace possible.
In fact, employees who work for companies that pursue mobile strategies that support the ability to work anywhere and at any time, 49% say those strategies make them more productive and 38% say they make them more satisfied with work, according to a 2016 study by the Economist Intelligence Unit.
Intelligent spaces like these aren't just a modern alternative – they are now a requirement to compete in the digital economy.
According to Gartner, as today's workforce is more dispersed, mobile and digitally savvy, IT leaders must respond to employee needs for more intuitive and flexible tools for creating, accessing and sharing content.
But we still have a long way to go when it comes to intelligent spaces. Many employees still remain shackled to desks on which sit hard-wired computers in office spaces hampered by too much friction and inefficiency.
Today, teams need to form and disband depending on the project at hand. This means employees need the right tools to work in a fluid environment where they can collaborate, physically or virtual, whenever needed.
Imagine this - employees can set up a meeting with the touch of a smart screen, invite people from different departments, share data and files, and at the same time loop in an expert who might be sitting in a company subsidiary in Singapore.
This world already exists.
Aruba, a company with a new 230,000-square-foot campus in Santa Monica, invested in its facilities purely to make its employees happier.
At all times, Aruba employees have secure access to all applications and data. They have the ability to find colleagues or reserve conference rooms using mobile devices, and are empowered with wireless projection for idea and information sharing.
To get the most out of its employees and to retain the most talented employees, companies need to provide staff with a modern, digital environment where they can work efficiently and seamlessly.
For many workers, the features of intelligent spaces are just as important as pay and benefits when choosing an employer.
Not only do static, unattractive environments mean companies are losing, or even failing, to attract talent – they also constrain workers and prevent them from realising their full potential.
This means an enormous loss in costs in terms of lost productivity and inefficiency - not to mention lost opportunities for new ideas and innovations which, in turn, means a loss of revenue and profits.
But establishing an intelligent workspace is not as simple as deploying a range of new technologies. Creating a truly harmonious experience requires completely rethinking how the workplace is designed.
These are the building blocks of a truly digital workplace and Hewlett Packard Enterprise (HPE) can deliver them.
Of course, each organisation is unique. There is no one-size-fits-all solution.
So, HPE works with your organisation, taking its workflow needs, and goals into account, to design a custom solution that works.
HPE Pointnext, a newly redefined technology service, draws on the expertise of over 25,000 specialists to help your organisation transform into an intelligent and effective, digital workplace.
The corporate world is moving away from the old-school, hierarchical organisation structure and to an intelligent, digital and hybrid world – make sure you move with it.