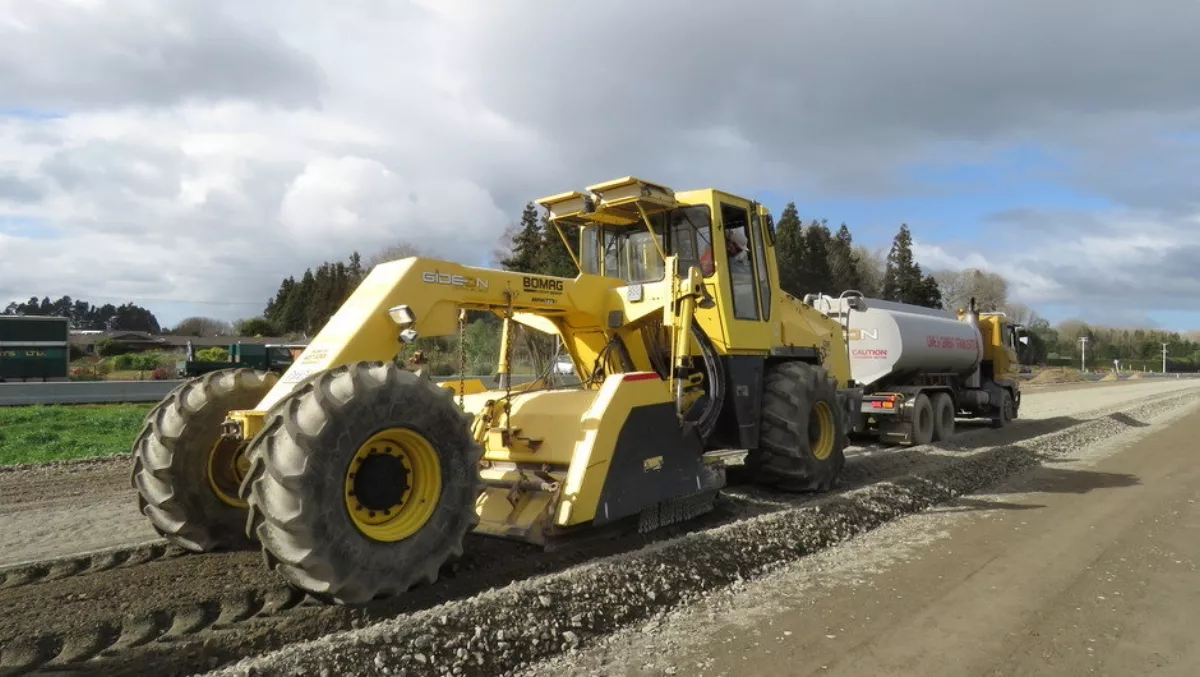 Rapid IT drives Hamilton Expressway forward
FYI, this story is more than a year old
Those who drive through the Waikato regularly and catch glimpses of the region's biggest roading project, the Hamilton Expressway, you may find yourself wondering what kind of IT such a mammoth project needs.
You don't have to look too far from home: Hamilton-based software firm Company-X has been an integral part of the IT process. The award-winning company took less than a week to develop a new prototype that allowed roading experts to find specific data and match analytics with specific stretches of road.
That prototype became what is now known as the Waikato Expressway Testing Application (W.E.T.A). Within three months, W.E.T.A was fully developed.
The Hamilton Expressway will feature five interchanges, 17 bridges, and 22 kilometres of separated four-lane highway, all scheduled for completion in 2020.
According to the CityEdge Alliance, which includes Beca, Coffey, Fletcher, Hick Bros, Higgins and the New Zealand Transport agency, it was originally difficult to navigate thousands of reports in its project information system. Those reports produced a spreadsheet containing test data, but there was no simple way to find specific data.
CityEdge Alliance manufacturing engineer James Higgins explains that roading workers must do a lot of testing to verify that the work is correct.
"We do tens of thousands of tests," Higgins says, but in order to analyse test reports it was either a manual process or required engineers to create an analytics tool of their own.
"The manual process meant it was much more difficult to at a glance ensure that all relevant testing was being looked at.
"There was no efficient way to visually represent the spread of testing along with a stretch of the project, for example, with a graph showing the location of where a test was completed."
CityEdge Alliance turned to Company-X for help because the firm was local and had experience in road construction.
Higgins joined CityEdge Alliance system and process manager Vicky Wells, as well as Company-X directors David Hallett, Jeremy Hughes, professional services manager Michael Hamid, and solutions architect Luke McGregor worked together to develop the software.
"When James spoke to Jeremy, David, Michael and Luke and mentioned pavement he didn't have to explain that he meant road construction not footpaths," comments Wells.
"We did some rapid prototyping and explored the different ways that we could visualise it for them," adds McGregor. "It was pretty quick. We were giving them designs to look at in less than a week and we could iterate the solution from there."
Wells says that the prototyping involved innovative ways to solve challenges and requirements, as well as a process of refinement.
"What was really important was to be able to quickly try some ideas out and see if it made sense," McGregor explains.
"CityEdge came to us with a problem, and we helped them quickly explore ways to solve this in software," he continues. "We then took the best ideas and worked them into a system to help them view and validate their test data. We're in the business of solving problems. The best way to do this is to be able to test out ideas quickly and keep only the best ones to build on."
According to Higgins, it wasn't long before they had a working concept.
"Luke showed us what became the Waikato Expressway Testing Application or W.E.T.A. early on. It looks and feels like what we have today. It's pulling everything together."
Now, W.E.T.A. is used daily by approximately 50 CityEdge Alliance users and there is also potential for the system to be deployed on other projects.
Related stories
Top stories