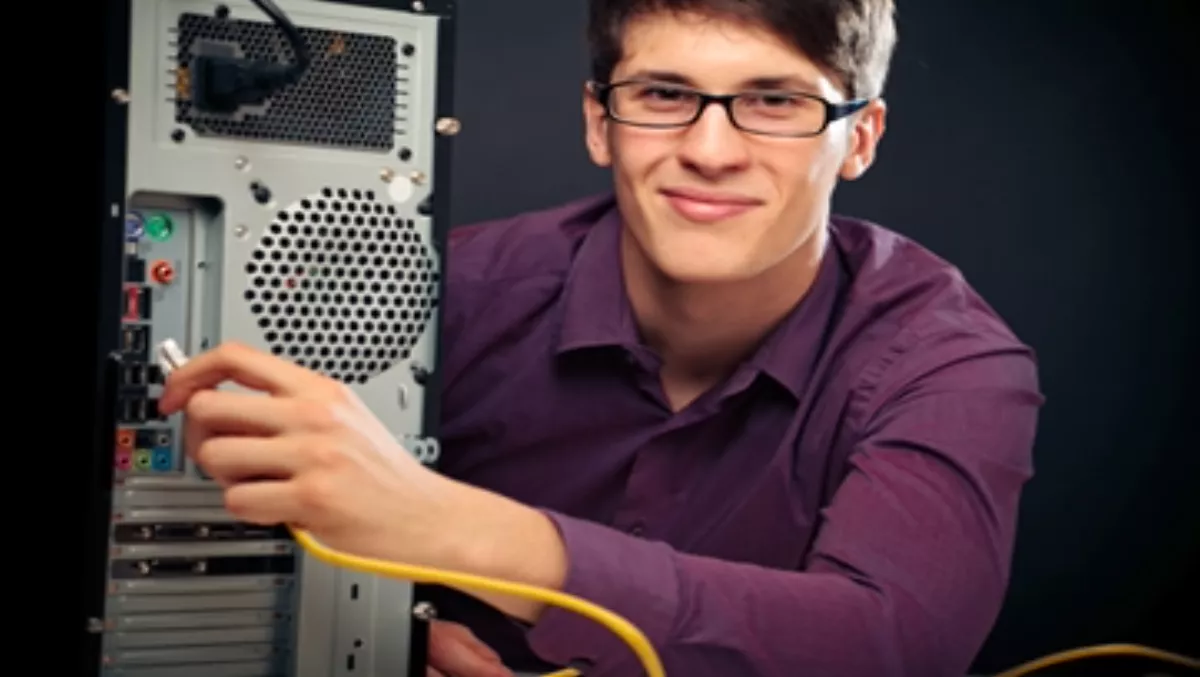 Technical insight
FYI, this story is more than a year old
Not all IT executives have a hands-off approach to technology. Fresh from a promotion to general manager, and from winning the Emerging ICT Talent Award 2011 at the CIO Summit in June, Connon Daly still enjoys getting stuck into the technical aspects of his job."I enjoy the technical side of my job, especially working on our very complex virtualisation system," Daly says.
When his employer, the Christchurch-based web design and digital services company hairyLemon, decided to split the IT department from the main company, and establish it as a separate entity, Daly was given the position as both general manager and head of technical for this new company, The IT Team.
Yet, he expects there will be changes to his titles."Ideally, the role as head of technical will eventually go to someone else, and I will fill the position as general manager full time.Before he took on his new role in August, he had been working as IT manager for hairyLemon, and he says his time in that role was divided between about 70% technical work and 30% management."
For The IT Team my role is now more like 70% business management and 30% technical. As the company becomes more established, I hope to bring that back to a 50/50 division of my job tasks," he says.
Daly finds it interesting to see the general development of the role of IT manager or CIO towards requiring a business background rather than a technical background;"I would think that when you're in an IT management role and making decisions, it helps to know and understand the technical side of things, instead of relying on advice from other team members."When things go wrong, technical insight helps you to be able to step in and understand what's going on from a technical point of view," he says.
Daly had been with hairyLemon for more than four years, which he reckons is "a fair amount of time for the IT industry".
He proposes that staying with the same employer, rather than moving up the career ladder by changing both roles and employers, has given him options he might not otherwise have had at such an early stage of his career."In my role as assistant and junior/mid-level engineer, I was given the chance to work on some very interesting projects. That meant I got the opportunity to punch above my weight a bit in terms of the complexity of IT tasks I was dealing with."While he suggests companies are often reluctant to let young staff engage in complex projects, he says there is much to be gained from the experience.
His own company is growing, and has just been recruiting new staff, and experience is high on his list of desired attributes for new team members."When I employ staff, it's not all about qualifications, but more about the experience they bring to the role. IT qualifications can be all over the place, and it can be hard to determine the value of different certificates. What really counts is how much hands-on experience they have.
"Another crucial thing to look for is attitude. It is hugely important for me how new team members will fit into our company culture. The IT market might be a bit over-saturated at the moment, as I had a large number of over-qualified people apply for a junior role recently."
The next stage of Daly's career will be focused on establishing his new company and growing the client base.
The focus is on managing networks for clients, which will rely heavily on cloud computing.
The push towards the cloud is for Daly born out of lessons learned from dealing with the aftermath of the Christchurch earthquakes. Daly and his team spent long days working to restore their own IT systems, and later clients' systems as well, and he says it taught him the business recovery value of moving to the cloud.
"Like many technical IT professionals, I was sceptical and thought cloud computing is something that would work for some, but not for me. Yet, the earthquakes changed my perception, and I have now embraced this area for the benefit of our clients."After all, if you don't offer the superior product and service to your clients, someone else will," Daly says.
Related stories
Top stories