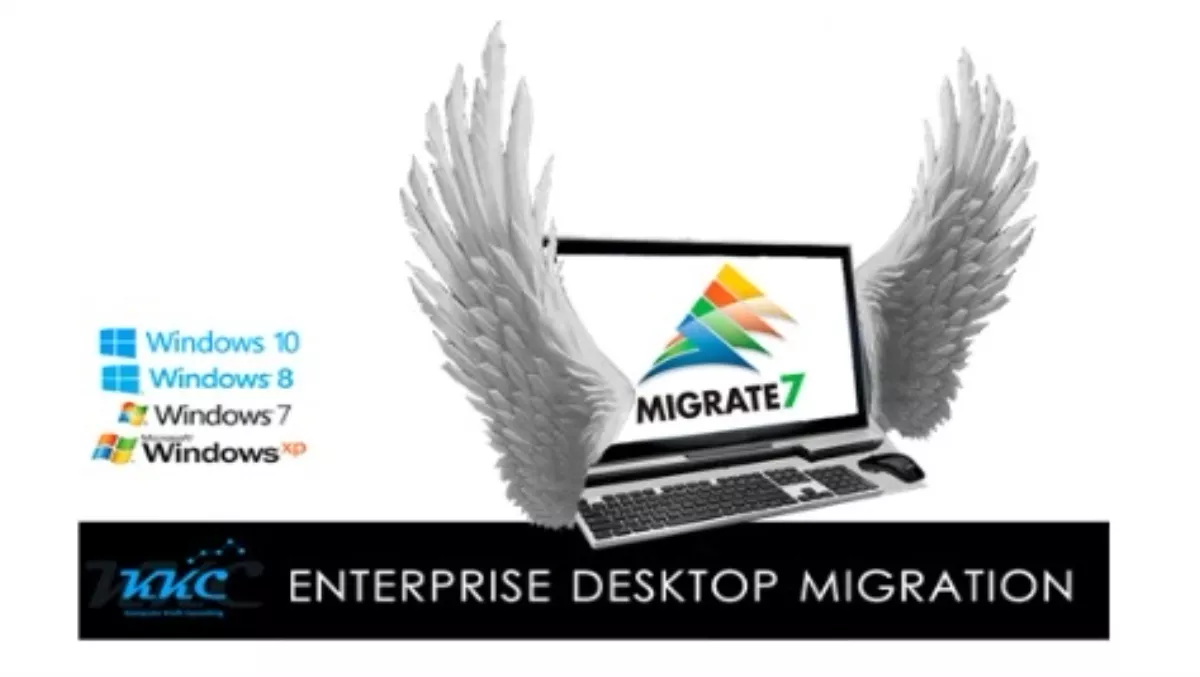 Windows desktop and persona migration with speed – KKC
FYI, this story is more than a year old
KKC after recently announcing their partnership with Tranxition was an Exhibitor in the Emerging Technology Section at the Gartner Symposium for CIO's on the Gold Coast last week.
The decision to focus on desktop migration came after requests had flooded in from KKC's customers looking for migration solutions that would ensure successful upgrades from Windows XP, Windows 7 and Windows 8 versions to Windows 10.
"Some customers for obvious reasons are moving from XP but not necessarily all the way up to Windows 10, a hybrid of choices includes Windows 8 and Windows 10." says Grant Scurrah. "Most importantly our customers need a highly customisable and automated solution, which allows deep layers into file selections in large groups, drivers and registry settings and the capture of user's personas. Providing a smooth upgrade with uniformity and speed, that is secure and ensures the least amount of interruption for end users to re-settle and for IT resources to perform the migration is what led us to Tranxition and the Migrate7 product".
Grant said choosing Tranxition was a combination of factors. Firstly, the solution is used by the US Government at the top level. If you want to name drop, well there is no organisation more powerful. Other users include a Defence IT Provider, Major Publisher and a well-known Banking Institution.
A second factor was familiarity. Grant had been exposed to the solution previously through Numara Software and Footprints Asset Core, so the product was already identified as an enterprise ready solution and was running for years with a perfect plug-in and excellent track record of success.
A third reason is the configurable selections of files, the deep reach that it has into the Windows Desktops is unmatched. Grant said he wanted the best solution that is most compatible and most experienced with Windows OS and Migrate7 came out on top and able to simplify and automate complex situations.
An example of this is found in the Darpa Case Study where thousands of PC's required refreshes and upgrades with over 200 custom applications, older versions of Windows, hidden registry keys…new operating systems had to be remapped to completely different locations to add to the other overwhelming issues.
Tranxition were part of the planning stage to ensure the right settings were applied to Migrate7, they helped automate the project and moved the burden off end users to manage their upgrades alone-which had posed many risks. With proper planning and using the features of Migrate7, the end user was able to act on a simple request from the helpdesk to initiate. Compared to past efforts, using Migrate7 saved IT 50% of time and resource effort.
As a company to deal with, Grant says "Tranxition to date have been fast and efficient in dealing with all our questions and proved to be very reliable, showing sound business integrity and good practise. Nothing has been delayed, contact responses are unfaulted and we have not experienced any routed support- everything is direct. "
There are some solutions for windows upgrades that have been married-in for free but Grant said he was not happy with the limitations that research showed they had and were not really suitable for achieving an enterprise, time efficient goal or for compliance with policy. He said other solutions out there are packaged up for personal use and small business and although some offer large scale applications, they were not designed or built for that in the first place and lack the connections that we know exists with Migrate7 which are time and results proven.
Tranxition have some big partners aligned who KKC now sit parallel with for providing the Solution. KKC offer dedicated consultancy, services and experience. Migrate 7 integrates easily with any Deploy Tool. Grant says "Our agreement with Tranxition allows us to apply excellent pricing as we have a direct line. We are licensed to do business with any company in Australia, New Zealand, Pacific Islands and Singapore to deliver the Tranxition product at the enterprise level. Our consultancy and experience with Migrate7 is rooted in history and KKC are absolutely delighted to have sealed this partnership."
When asked what was a common theme to emerge out of the Gartner conference, Grant said "overwhelmingly it is the return to the boutique and the small focussed providers. There is a definitive swing away from larger corporations that are expensive and don't have the flexibility and the autonomy within the organisation to move with change and to facilitate customers unique needs. It was very inspiring to be at Gartner, up against the big guns and knowing that our size was by no means an impediment, in fact the way the market is going now- it is an advantage. Our limited over-heads means we are better priced to get the job done with equal professionalism. This makes us extremely hard to ignore as an IT Company and the visits to our stand was simply astonishing."
Related stories
Top stories